As the "Stop the Steal" rally continues nationwide, hundreds of Trump supporters attended a rally in Phoenix, Arizona, on Nov. 21.
Attendees sang the national anthem to kick off the peaceful rally.
Coming together in the name of freedom, and connected by their admiration and love for President Donald Trump, everyone was upbeat and feeling encouraged as they expressed their support for Trump's efforts to ensure the integrity and transparency surrounding the results of the November election.
Businessman Funds Tour Bus to Support Trump
A Mississippi businessman and Trump supporter, Buddy Hall, spent over a million dollars for an "unofficial campaign bus" for Trump's re-election.
Hall describes himself as someone who has never voted in his life because he thought politics was a game, "just like the Dallas Cowboys and Pittsburgh Steelers. We're all Americans, we all love each other." But his view changed when he saw "the burning of buildings, the killings, defunding the police…"
"Another reason why I never voted is I figured my vote won't make a difference." Hall thought that the politicians "probably aren't going to do what they promise to do. So why waste my time?" This view also changed with Trump.
In order to "make a difference and help promote our great president," Hall purchased a tour bus and calls it "All Aboard the Trump Train." On the lavishly decorated bus are words like "Promises Made Promises Kept," "Keep America Great," "Christians for Trump," "Veterans for Trump," "Law Enforcement for Trump," etc.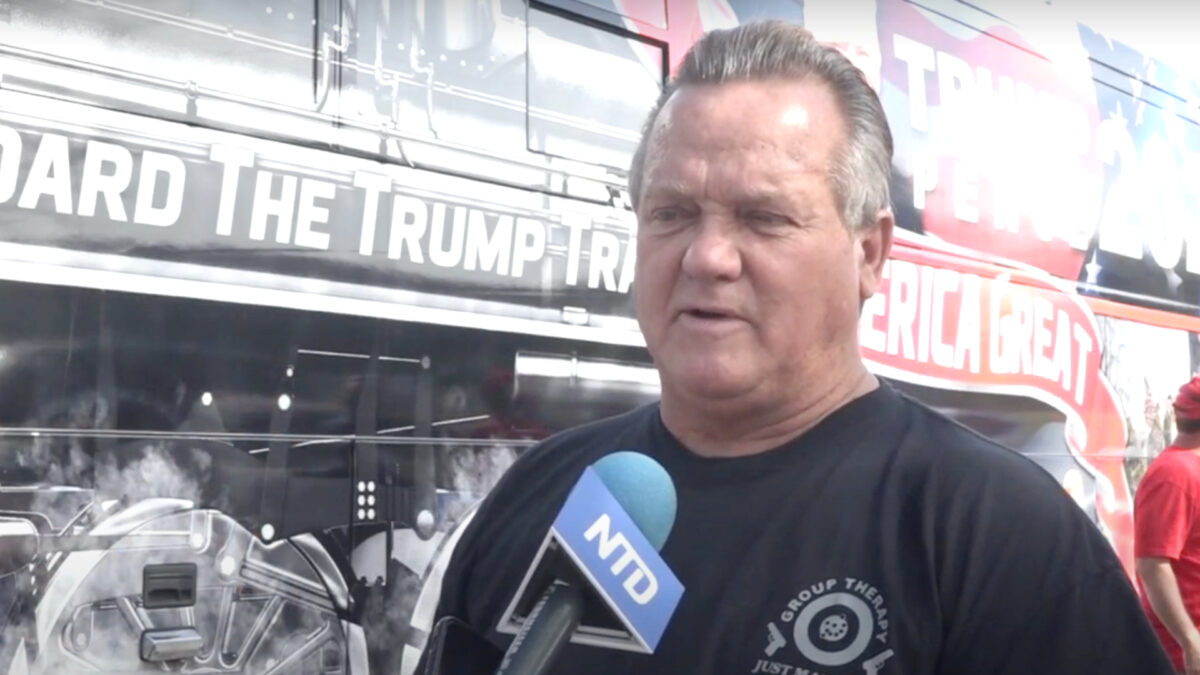 Mississippi businessman Buddy Hall speaks to an NTD reporter at a "Stop the Steal" rally in Phoenix, Ariz., on Nov. 21, 2020. (Screenshot via NTD)
Hall and the crew wanted to tour the country but they weren't able to go to as many places as planned because of the COVID-19 shutdown. The areas are also off limits due to "BLM and Antifa and all the crazy stuff," Hall said. "If they mess it up, it's hard to go get another bus like this. So we keep it in safe places."
He added, "We should all be trying to help each other but they're trying to tear the country apart. It's okay if you don't like the president but he's here to help us all."
As for the election outcome, Hall is consciously optimistic, "I'd like to think he's going to win but [there has been] too much cheating [in this election]."
Self-Taught Historian Loves Trump: 'He Is a Fighter'
Tara Immen, 30, who is one of the event organizers, said that after studying American history on her own, "I truly believe our constitution, the declaration of Independence, along with the Bible are the most sacred documents."
She noted that 39 people signed the original draft of Constitution, and 56 men signed the Declaration of Independence. "It just shows that it only takes a small number of good people with sound minds to truly change and transform a nation."
Immen said that the number one reason she supports Trump is that "we finally have a president with an absolute strong backbone."
"He is not afraid to say what he wants [to say]. He calls the fake news out. He stands against human trafficking. He signed the 1776 act to bring back patriotic teaching in our schools. He stands for constitutional rights. He doesn't even take his salary! I support Trump for a million other reasons because he's finally someone who's not afraid of the mob."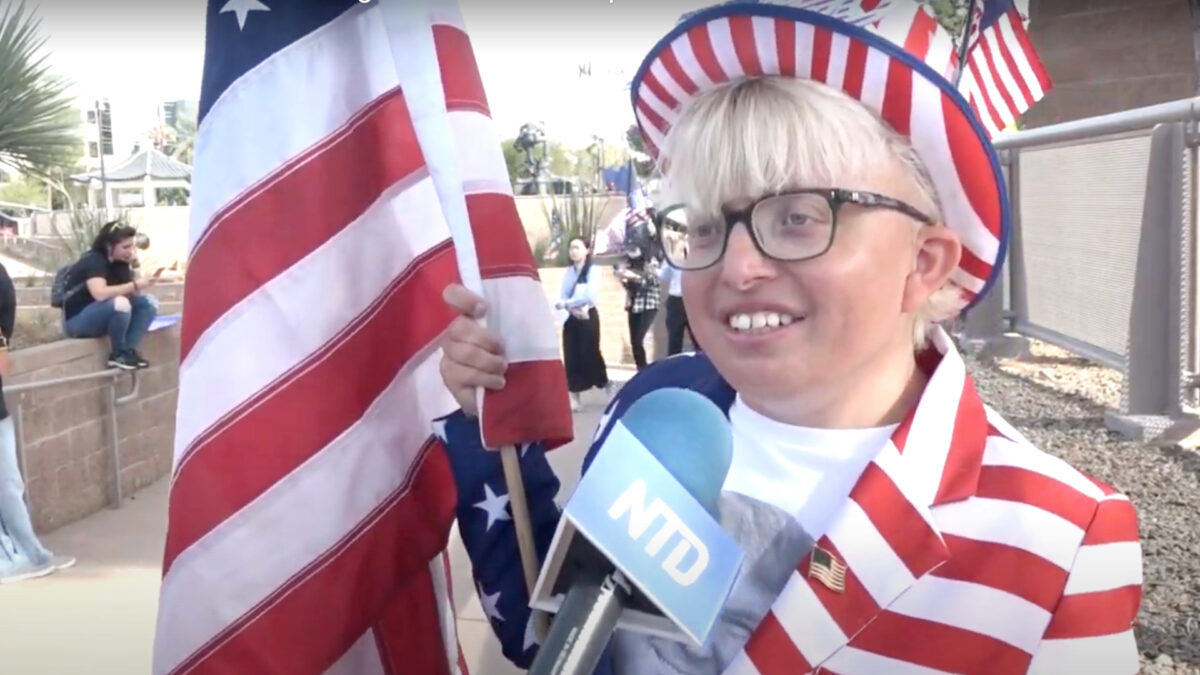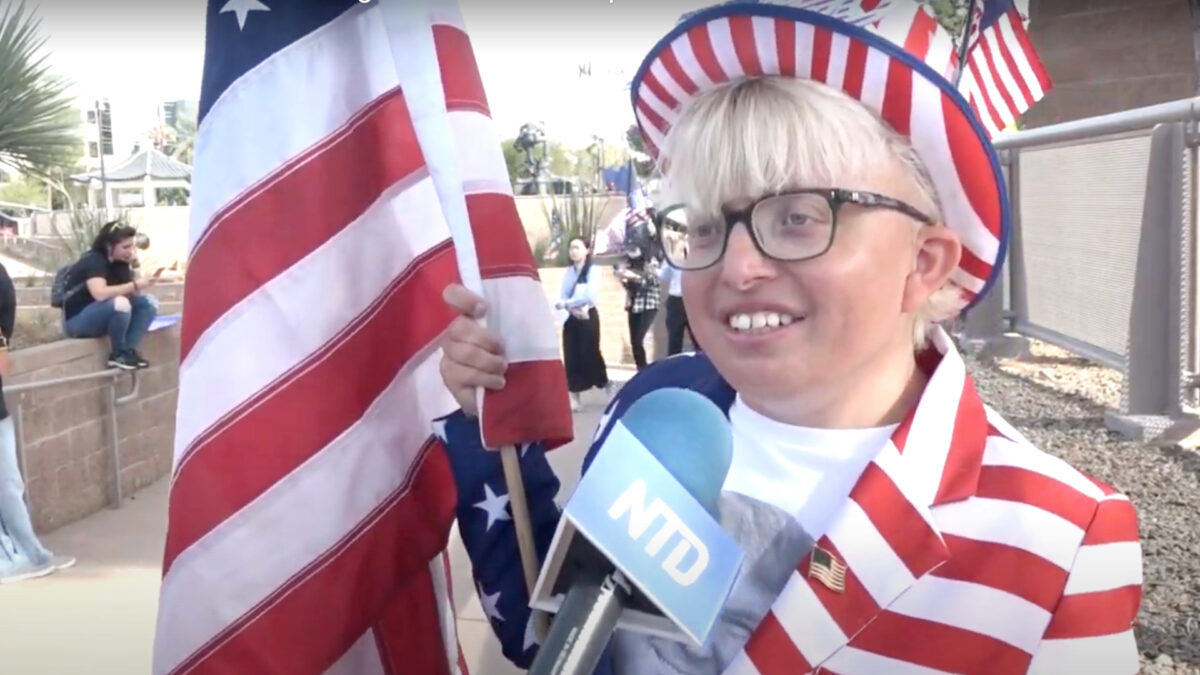 Tara Immen, one of the organizers of the "Stop the Steal" rally, speaks to an NTD reporter at the rally in Phoenix, Ariz., on Nov. 21, 2020. (Screenshot via NTD)
Immen believes that Trump won the election, but it was then stolen. However, she is not discouraged.
"I think it was good it played out [like this]. America could see the swamp and the fraud in it," she told NTD.
She said that "Trump is a fighter." Her favorite quote from Trump is "Never give up!"
She and other Trump supporters will be at the State Capital every Saturday at noon as well as at the county recorder's office every day from 2 p.m. to 10 p.m.
'Maybe One Biden Supporter Out of 20 Households'
Korena Ortiz is a senior project manager at a local company. She told NTD she was supporting the 'Stop the Steal' rally because, "I don't want our citizens who voted for our president, who have been robbed, to feel that they are alone.
"President Trump is the people's president. He is a hero for fighting fraud," she said.
As a precinct committee person who has a full time job and kids, Ortiz said that she has spent one or two days a week since this summer to walk her precinct. Ortiz believes that the support for President Trump is overwhelming.
"There are other people who spent a lot more time than I do. We knocked on thousand of doors. Maybe we find one Biden supporter out of twenty households. I am not exaggerating," she said.
She also mentioned that prior to the election, there were several over 90 mile long "Trump Train" events that got no press.
Despite what she sees as fraud, Ortiz offered some encouraging words, "Have faith in good, have faith in our founding fathers and our constitution. Trump fights for America."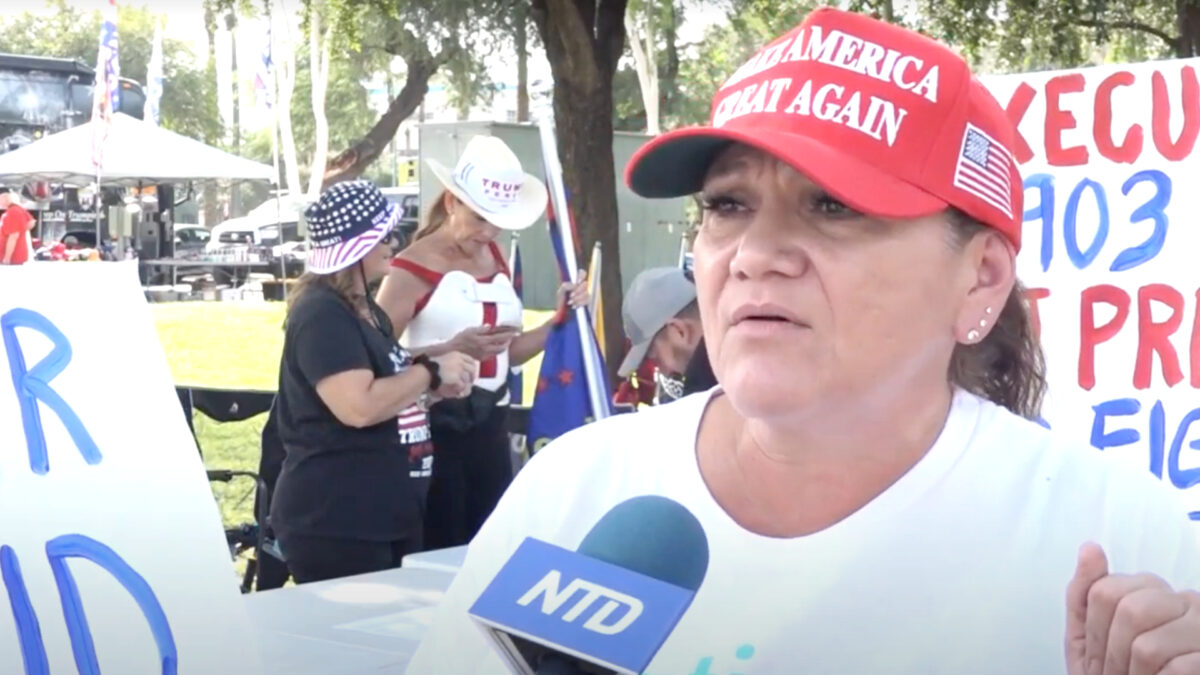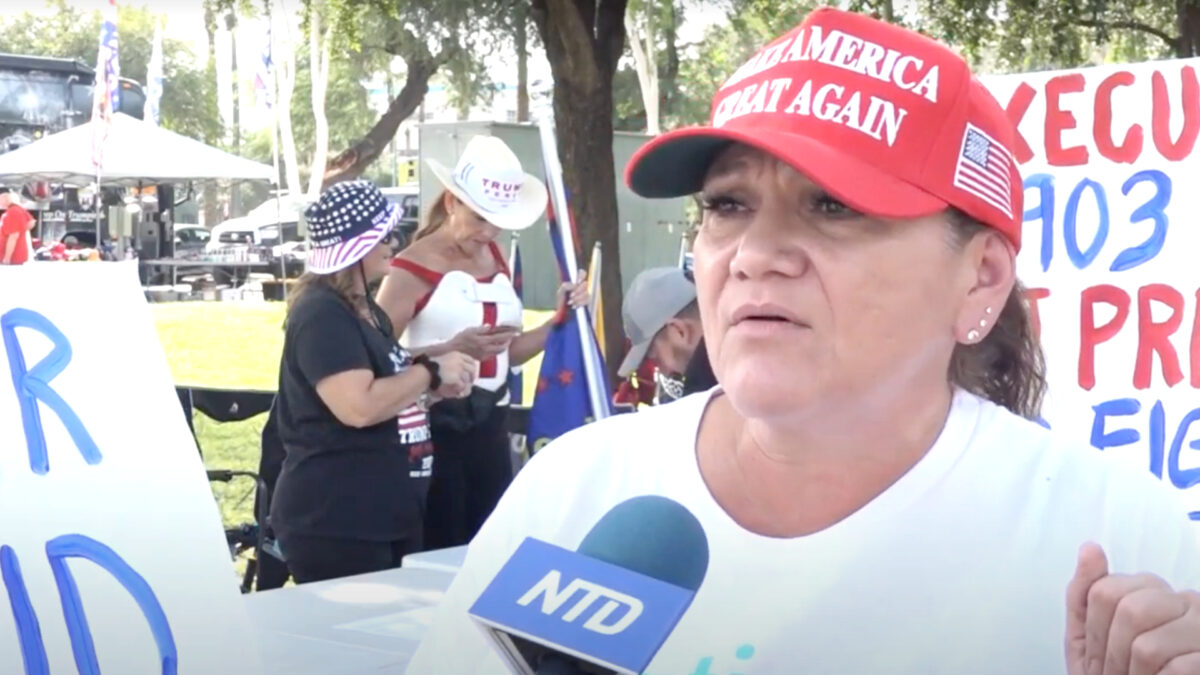 Korena Ortiz speaks to an NTD reporter at a "Stop the Steal" rally in Phoenix, Ariz., on Nov. 21, 2020. (Screenshot via NTD)
Cowboy Would 'Ride Into the Sunset' for Trump
Kip Gates, a fifth generation cowboy, told NTD he came out to support the president because "Trump is a man who speaks from the heart. He's a man that really truly knows what this country was built on, how God is put into this country, and how these people should live in order to be free Americans."
"I am a Christian, and my ancestors were Cowboys. They believed in the land and living off the land. I'm here because I want to stick up and show people that God is number one, that the country needs God and people like President Trump."
Gates said he had a personal message for President Trump. "God bless you. You're a man. You're a great figure for this country, and I'm behind you 150%. I'll saddle my horse and ride into the sunset just for you," he told the president.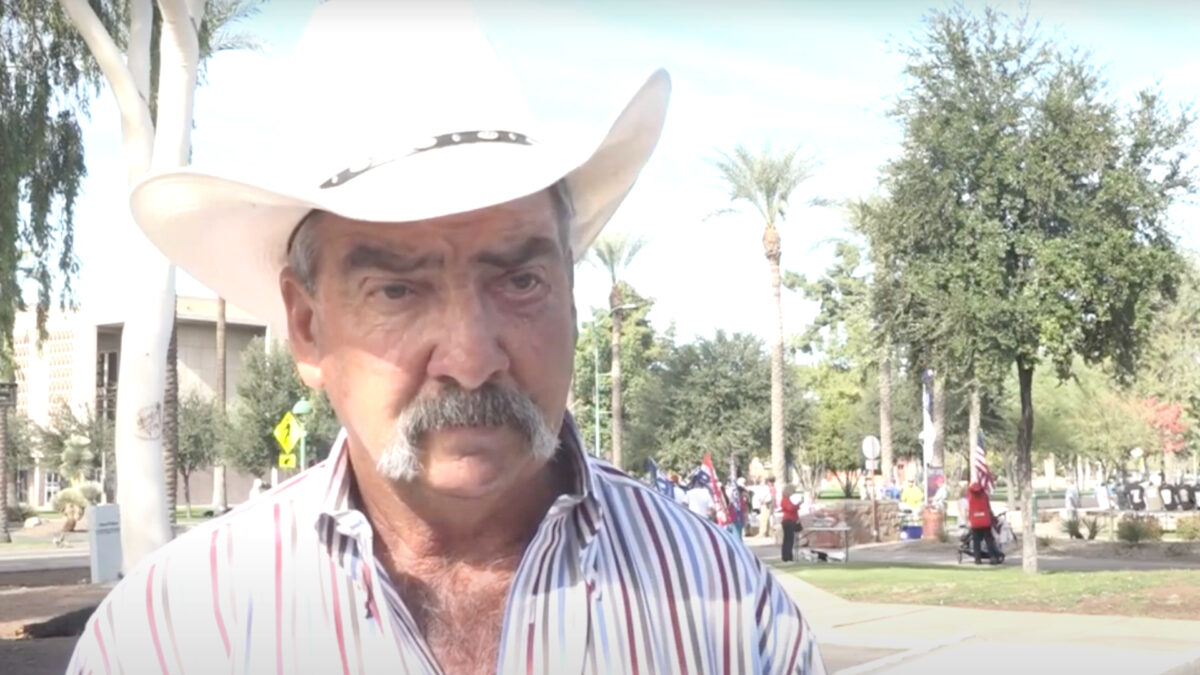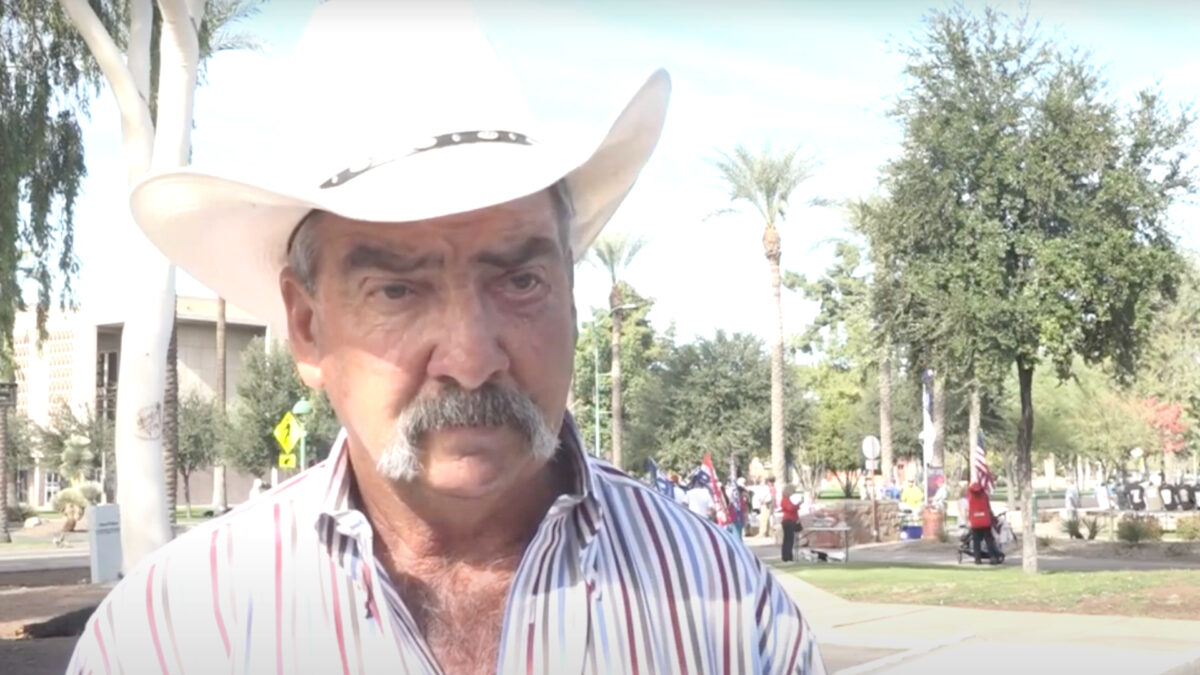 Kip Gates, a fifth generation cowboy, speaks to an NTD reporter at a "Stop the Steal" rally in Phoenix, Ariz., on Nov. 21, 2020. (Screenshot via NTD)
Linda Jiang contributed to this report.