Congress is expected to vote on Monday on a newly agreed upon stimulus package, after months of negotiations.
The House of Representatives is scheduled to meet at 9 a.m., with the first vote no earlier than 10 a.m.
Representatives were told they'll consider both funding for government operations for the next year and the fresh COVID-19 relief package.
Once the House passes the bills, which may be combined, the Senate is expected to vote on them.
Along with reaching a compromise on a stimulus, the parties passed a one-day stopgap funding bill that prevented portions of the government from shutting down.
Senate Majority Leader Mitch McConnell (R-Ky.), a key player in the months of negotiations on a fresh stimulus, announced late Sunday that a deal had been reached.
"There will be another major rescue package for the American people. As our citizens continue battling the coronavirus this holiday season, they will not be fighting alone," he said.
The package "is packed with targeted policies that help struggling Americans who have already waited entirely too long," such as an infusion of money into the Paycheck Protection Program, a small business loan program; money for distribution of COVID-19 vaccines; and the renewal of federal unemployment aid.
Legislators said the deal includes another round of checks, but the amount of the payments isn't clear. Sens. Josh Hawley (R-Mo.) and Bernie Sanders (I-Vt.) had pushed leaders in recent days to include direct payments in the package.
The package also includes funding for state and local governments, which Democrats pushed for but Republicans did not want to grant. Democrats said the aid isn't enough; Republicans forwent liability shields from COVID-19-related lawsuits.
COVID-19 is the disease caused by the CCP (Chinese Communist Party) virus.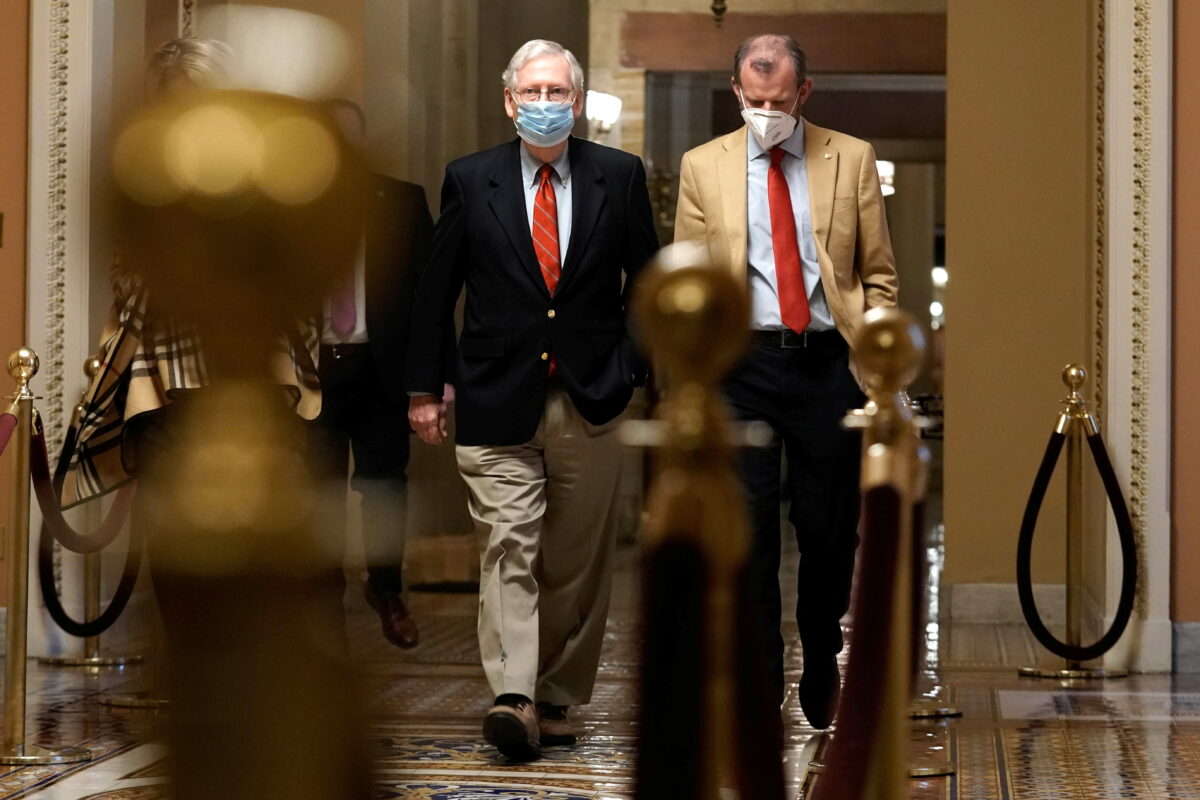 Senate Majority Leader Mitch McConnell (R-Ky.) (L) walks from his office to the Senate floor on Capitol Hill in Washington on Dec. 20, 2020. (Ken Cedeno/Reuters)
"While this bill is far from perfect, nor is it the bill that we would pass if Democrats had a majority in the Senate, it is a strong shot in the arm to help American families weather the storm," Senate Minority Leader Chuck Schumer (D-N.Y.) told reporters in Washington.
Both Republicans and Democrats jammed previous iterations of a stimulus in the months leading up to the agreement.
McConnell declined to bring up the House-passed $3.3 trillion Heroes Act for a vote, while Senate Democrats on multiple occasions blocked several narrower Republican proposals.
McConnell called it "regrettable" that it took so long to reach a deal.
"From where I stand, from where Senate Republicans stand, there is no reason why this urgent package could not have been signed into law multiple months ago," he said.
"Senate Republicans have consistently supported a targeted rescue package under $1 trillion, focused on the same kinds of policies that we've actually settled on today—as far back as July."
Schumer and House Speaker Nancy Pelosi (D-Calif.) blamed the GOP for the delay.
"The number one reason we didn't get the bill we needed was the Republican Senate," Schumer alleged.
The White House signaled President Donald Trump will sign the new package, provided it passes both chambers.
Democratic presidential candidate Joe Biden applauded the package, saying it will "deliver critical resources to fight COVID-19, including funding for vaccine distribution, and much needed temporary relief for workers, families, and small businesses."