First-time candidate Glenn Youngkin was nominated on Monday by Republicans in Virginia's gubernatorial race.
Youngkin, 54, defeated businessman Pete Snyder and six other candidates.
"I am prepared to lead, excited to serve, and profoundly humbled by the trust the people have placed in me. Virginians have made it clear that they are ready for a political outsider with proven business experience to bring real change in Richmond," Youngkin said in a statement.
Republican delegates cast their votes at polling locations on May 8 and it took several days to tabulate the results.
Youngkin has touted his outsider status. He has said his real-world business experience will help him lead Virginia if he's chosen by voters in November.
Among the policy stances he's forwarded are opposition to critical race theory in schools and challenging Big Tech companies that censor conservatives.
"Glenn ran a fantastic and flawless campaign, and I look forward to throwing my full support and the full force of the Republican Party of Virginia behind him in the coming months," Rich Anderson, chairman of the Virginia GOP, said in a statement.
Snyder said Youngkin deserved the win after running "a tremendous race."
At least one Republican who lost has suggested a third-party run.
State Sen. Amanda Chase, a Republican, indicated over the weekend she will run as an independent in November. She said the Republican convention, where the votes were cast, was run by "never Trumpers," or Republicans who oppose former President Donald Trump.
Anderson on Monday called for Republicans to unite behind Youngkin.
Democrats wasted no time in attacking Youngkin.
Terry McAuliffe, who is attempting to reenter the governor's mansion after serving from 2014 to 2018, called him a "Trump loyalist who'll stop at nothing to advance the GOP's extreme agenda."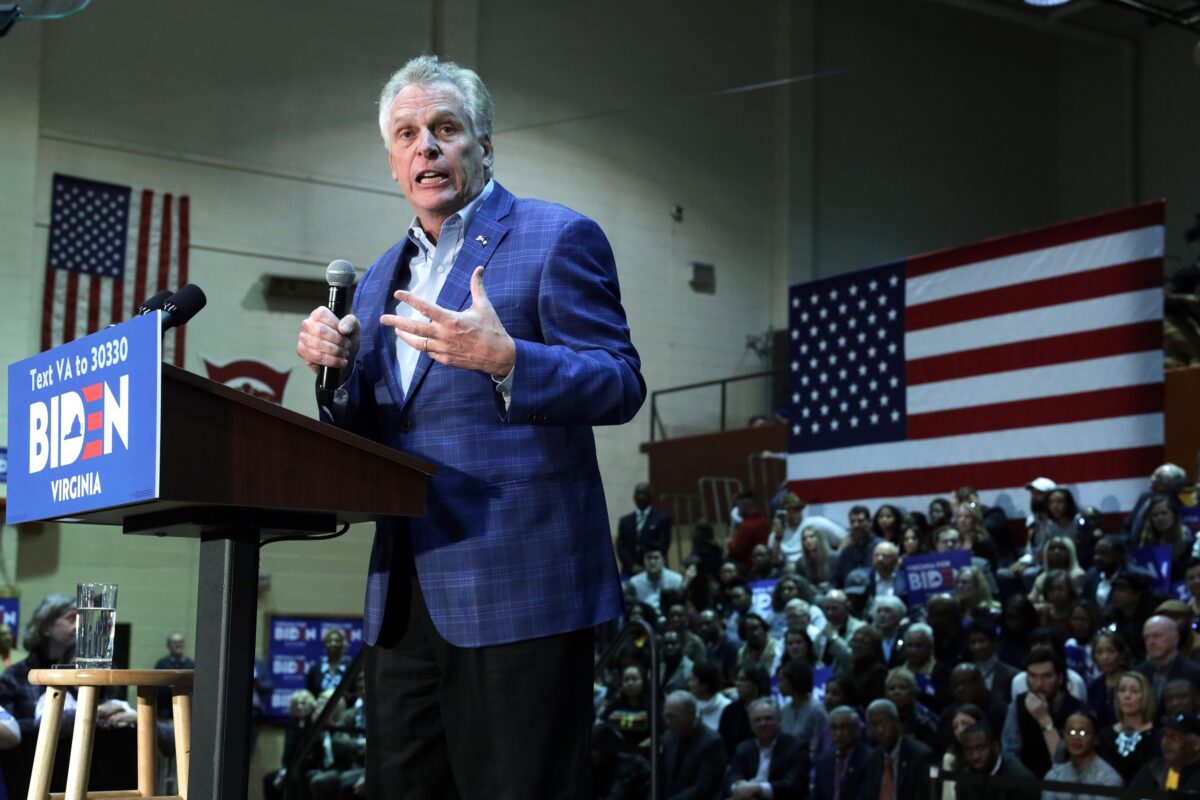 Susan Swecker, chairwoman of the Virginia Democratic Party, claimed that Republicans "nominated a far-right extremist who has demonstrated total allegiance to Donald Trump."
But Republicans countered the messaging by promoting Youngkin as a chance to right what they describe as a damaged state.
"His successful career in business brings an outsider's perspective to a state that has been damaged by years of Democrat control. Youngkin's focus on getting kids back in schools, rebuilding Virginia's economy, and fighting for our Constitutional rights make him a formidable candidate," Arizona Gov. Doug Ducey, chairman of the Republican Governors Association, said in a statement.
Trump endorsed Youngkin on Tuesday, calling him "pro-Business, pro-Second Amendment, pro-Veterans, pro-America."
"He knows how to make Virginia's economy rip-roaring, and he has my Complete and Total Endorsement!" Trump said in a statement.
Virginia governors cannot hold office for two consecutive terms. The current governor is Ralph Northam, a Democrat. Before McAuliffe, Republican Bob McDonnell was governor. The state in recent decades has seen both Republicans and Democrats at the helm after a lengthy period of time—1874 to 1970—of unbroken Democrat control.
Virginia went for Republican presidential candidates for many years beginning in 1952 but flipped to Democrats for four straight races starting with Barack Obama in 2008. Trump lost in the state by about 200,000 votes to Democrat candidate Hillary Clinton in 2016 and by about 450,000 votes to Democrat candidate Joe Biden in 2020.