The Board of Supervisors in Arizona's Maricopa County on Friday voted 4-1 to file a complaint in the Arizona Superior Court and won't comply with state Senate-issued subpoenas to hand over voting machines used in the Nov. 3 election for an audit, as well as an audit of scanned ballots.
A lawsuit will be filed against lawmakers in the Arizona State Legislature to block the enforcement of the subpoenas, county officials said.
The subpoenas were issued earlier this week by the Senate Judiciary Committee. Chairman Eddie Farnsworth, a Republican, had issued the subpoena to audit Dominion Voting Systems machines and ballots in the county, with a deadline for Friday at 5 p.m.
Maricopa County Chairman of the Board Clint Hickman, a Republican, said during Friday's session the subpoenas were unconstitutional and a "slap in the face."
"I am very disappointed of the subpoenas that were sent over to the county. I believe [Farnsworth] knows better. He's an attorney, a very experienced lawmaker. He's been there for a very long time. And he's very smart. I'll be the first to say he is one of … the most smartest members of the legislature walking down there. And he knows better," supervisor Steve Gallardo added. Gallardo and the other supervisors said they are concerned about how private voter information would be handled in an audit of the machines.
Other than Hickman and Gallardo, Board members Jack Sellers and Bill Gate voted in favor of rejecting the subpoenas and filing a lawsuit against the state legislature. The lone dissenting vote was cast by Board member Steve Chucri.
After the vote, the Arizona Republican Party wrote that the Board of Supervisors voted "to resist [and] fight the legislative subpoenas," adding that Chucri dissented from the other Board members "in favor of a transparent audit."
Following the vote, the Arizona GOP's chairwoman, Kelli Ward, said that Maricopa County previously "agreed in open court to audit more ballots but it simply decided not to finish doing so."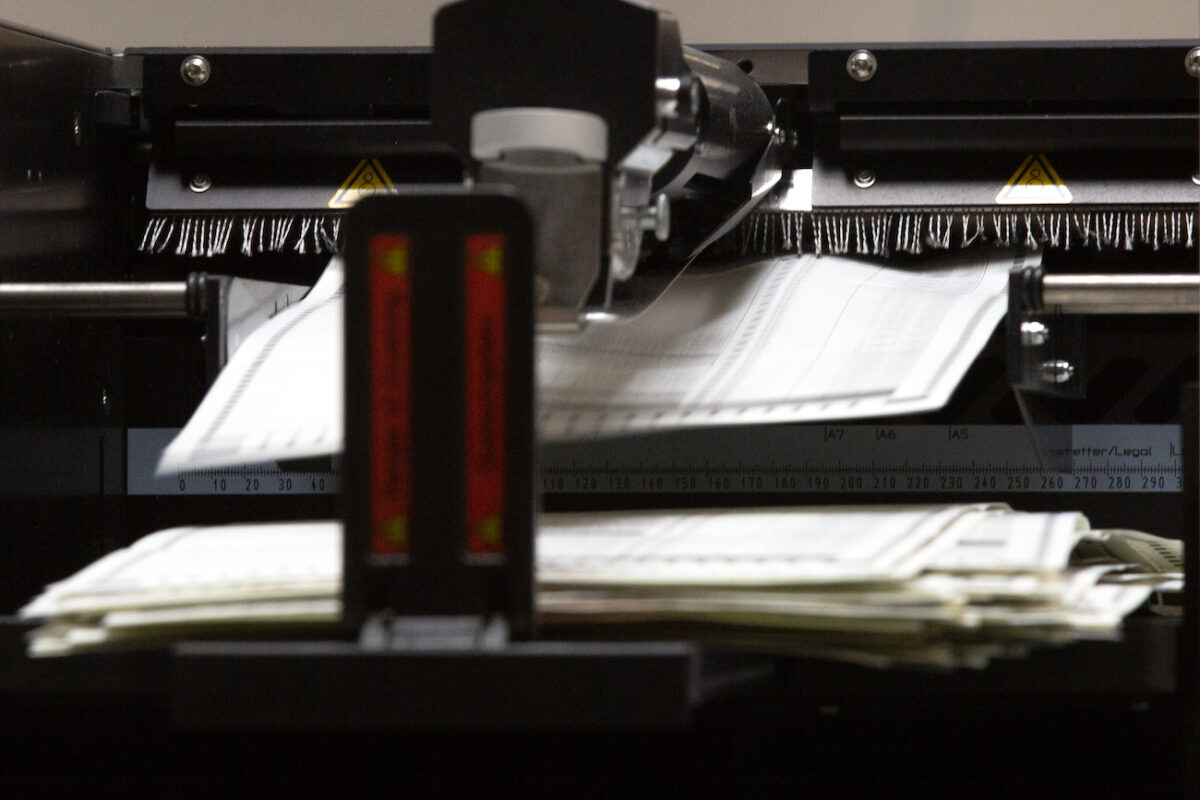 Ballots are counted by Maricopa County Elections Department staff in Phoenix, Ariz., on Oct. 31, 2020. (Courtney Pedroza/Getty Images)
Farnsworth said during a hearing this week that he believes county officials did the best they could, but that doesn't mean there aren't anomalies.
"It doesn't mean that there aren't concerns and it doesn't mean that the voters aren't justified in wanting to make sure that it was done properly. And I will never apologize for making sure that we, in turn, turn over those rocks and look underneath to make sure that everything was done properly," he said.
"The goal is to verify the machines did what they are supposed to do," Republican Senate President Karen Fann said in explaining why a subpoena should be issued, according to an AZCentral report earlier this week.
Fann told the Washington Examiner: "One subpoena calls for a scanned ballot audit, to collect an electronic ballot image cast for all mail-in ballots counted in the November 2020 general election in Maricopa County, Arizona. The second subpoena calls for a full forensic audit of ballot tabulation equipment, the software for that equipment and the election management system used in the 2020 general election."
Maricopa County GOP Chairwoman Linda Brickman had told Arizona legislators on Dec. 1 that she saw ballots cast for Trump being tallied for Joe Biden when they were entered into voting machines last month. Brickman said that she and her Democratic partner witnessed it "more than once." The chairwoman also alleged she faced threats and intimidation from election supervisors at the Maricopa County Tabulation and Election Center after she raised red flags about what she saw.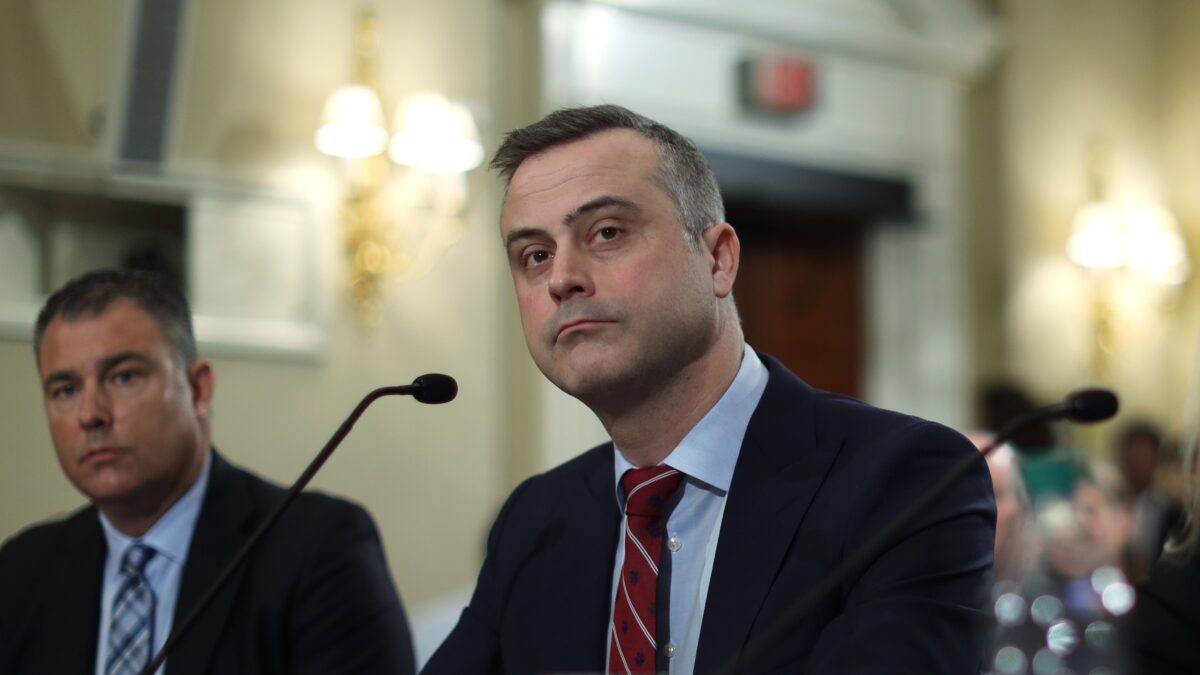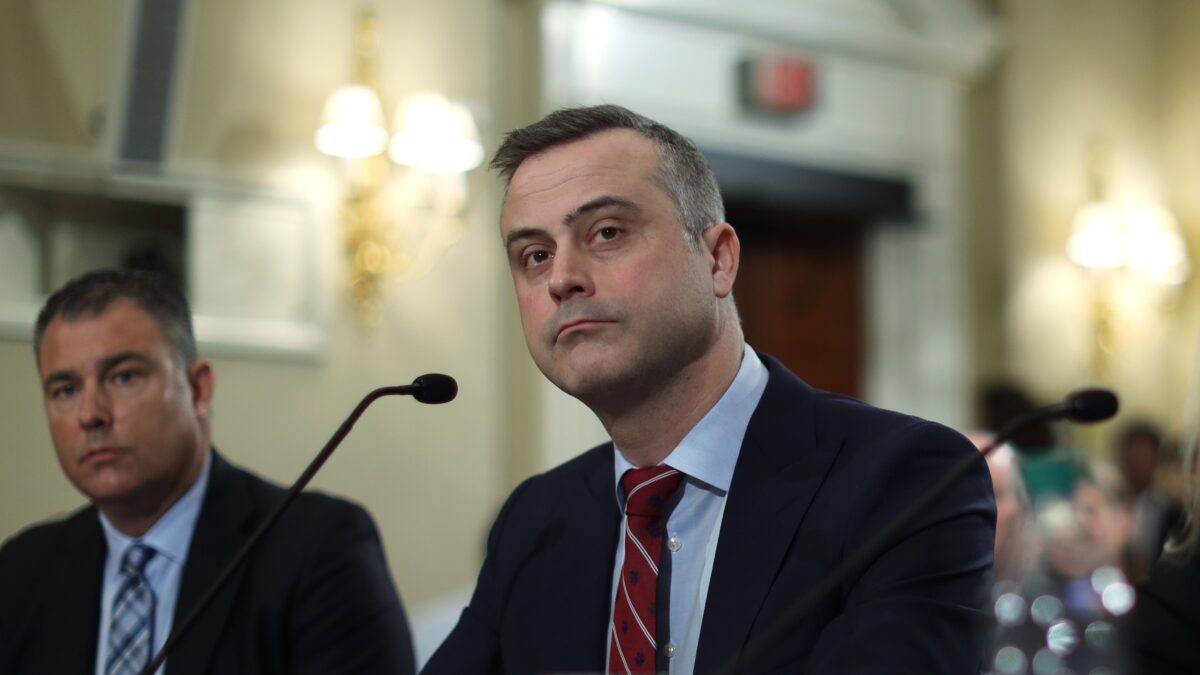 President and CEO of Election Systems & Software Tom Burt, President and CEO of Dominion Voting Systems John Poulos, President and CEO of Hart InterCivic Julie Mathis testify during a hearing before the House Administration Committee, on Capitol Hill in Washington, on Jan. 9, 2020. (Alex Wong/Getty Images)
Dominion Voting Systems CEO John Poulos recently responded to allegations that the company's voting machines can switch votes.
"No one has produced credible evidence of vote fraud or vote switching on Dominion systems because these things have not occurred," he said during a hearing with Michigan state legislators on Tuesday, adding that both he and his employees have faced death threats amid allegations that the Dominion machines were used to commit election fraud.
Dominion representatives have also repeatedly said that the voting machines were certified by the federal Election Assistance Commission, cannot switch votes from one candidate to another, and that the company has no ties to foreign governments.
However, a forensic audit report from Allied Security Operations Group released on Monday of Dominion machines and software in Michigan's Antrim County's found that the company's voting system "is intentionally and purposefully designed with inherent errors to create systemic fraud and influence election results." The audit team said the system is "intentionally" designed to create "an enormously high number of ballot errors."