Videos and photographs that allegedly show misconduct happening during the audit of votes in a Michigan county are a fresh attempt at spreading disinformation, state officials said Saturday.
The claims in the videos "are absurd on their face," Jake Rollow, a spokesperson for the Michigan Department of State, said in a statement.
The alleged evidence came from Matthew DePerno, the attorney in a court case that involved auditing of Dominion Voting Systems machines and software.
DePerno shared video footage with news website the Gateway Pundit that appeared to show election workers looking into a bin and expressing confusion about what they were supposed to count.
Two other videos showed a worker appearing to try to get ballots counted from a bag marked "spoiled ballots" and a worker wondering about multiple ballots that appeared to have the same signature.
In response, Rollow accused DePerno of "spreading lies in a desperate attempt to confuse voters."
"The truth is that voting machines counted ballots accurately, as the full hand tally of all presidential election ballots cast in Antrim County proved," he said, before calling the claims absurd and evidence of the attorney's "complete and willful lack of knowledge of election administration."
"There are blank ballots in ballot containers because that is where poll workers are instructed to place the unused ballots. There are no 'spoiled ballot bags' in polling places and there was no such bag at the audit. And there are no signatures on ballots," Rollow added.
He said that DePerno could have reported to law enforcement officers present during the recount that he thought something illegal occurred.
The lawyer "chose not to do so, perhaps because he is aware that falsely reporting criminal activity to law enforcement is illegal, but lying on the internet is not," he concluded.
DePerno responded by saying: "Wow, you know they [are] covering up lies and are desperate when @MichSoS attacks me personally and still falsely claims they did and [sic] 'audit.'"
"The video tells the story and proves the lies," he added.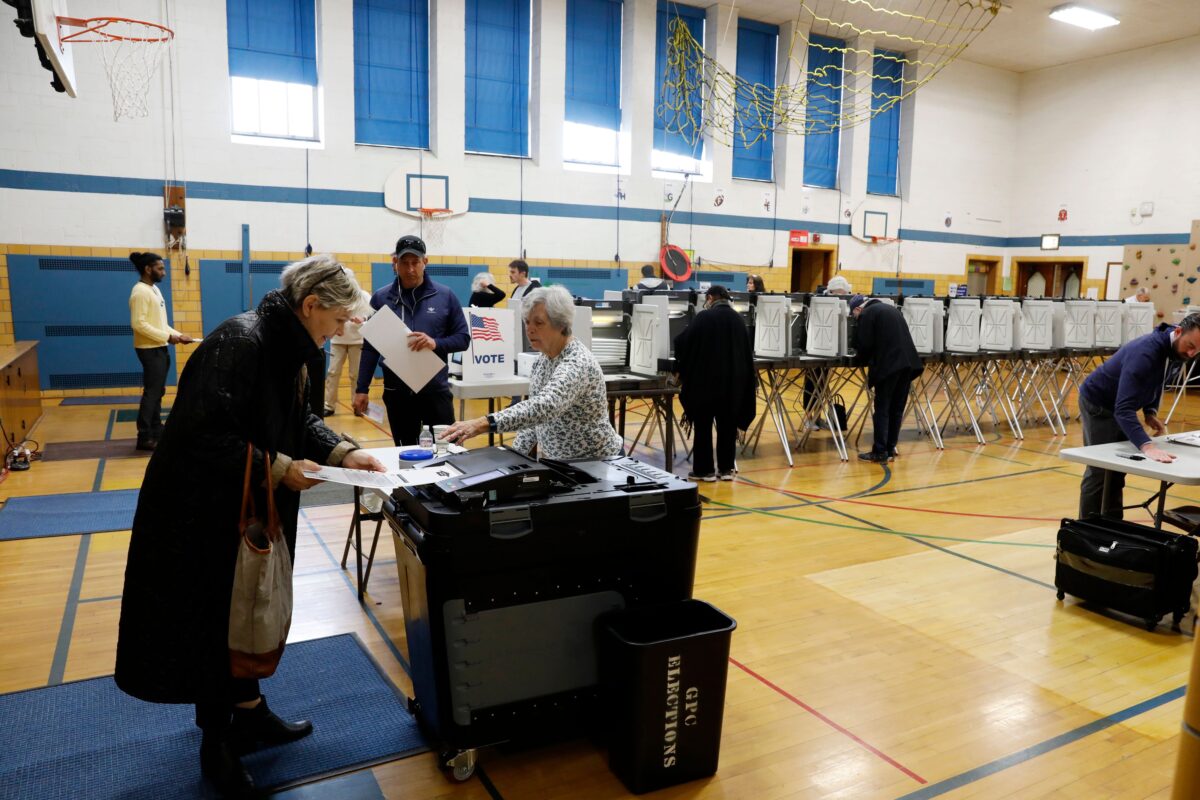 People put ballots in a tabulation machine in Grosse Pointe, Mich., in a March 10, 2020, file photograph. (Jeff Kowalsky/AFP via Getty Images)
The audit was completed on Wednesday. It confirmed that Antrim County falsely reported on election night that Democratic presidential nominee Joe Biden won. The final results show President Donald Trump received nearly 4,000 more votes than Biden.
The back-and-forth between Michigan Secretary of State Jocelyn Benson's office and DePerno followed a tense court hearing earlier this month, which saw a judge approve the public release of a forensic audit of Dominion products in Antrim County.
Russell Ramsland Jr., who led the team that conducted the audit, said it showed Dominion's voting system "intentionally generates an enormously high number of ballot errors," causing the ballots to enter a process known as adjudication.
"The intentional errors lead to bulk adjudication of ballots with no oversight, no transparency, and no audit trail. This leads to voter or election fraud. Based on our study, we conclude that The Dominion Voting System should not be used in Michigan. We further conclude that the results of Antrim County should not have been certified," he said.
Benson and her office attacked both DePerno and Ramsland. A lawyer for the state lambasted the attorney for giving an interview several days prior and alleged he distributed the audit to outside parties without the court's permission. Benson called Ramsland's team one of several "shadowy organizations" that she claimed the Trump campaign allowed to "throw around baseless claims of fraud."
Ramsland responded on Friday, telling Newsmax that Benson "did everything she could" to block the release of the report.
"And you have to ask, what is she so afraid of?" he added, saying code that lawyers for the state successfully got redacted shows evidence that races were flipped.