With only a few days to go until Election Day, New Jersey voters will decide between the Democratic incumbent called "a progressive governor" by his supporters and his Republican challenger running under the slogan "Let's Fix New Jersey."
The incumbent, Governor Phil Murphy, running for reelection held leadership roles at Goldman Sachs' offices in Germany and Hong Kong for more than 20 years and served as an ambassador to Germany during the presidency of Barack Obama. He was also a finance chair for the Democratic National Committee.
The Republican challenger, Jack Ciattarelli, is a certified public accountant, a two-time small businessman, and a lifelong resident of New Jersey.
Murphy, a Democrat, talked about his achievements as a New Jersey governor on the radio program "Keepin' it Real with Al Sharpton" when asked by the host on Tuesday.
The governor told Al Sharpton that among things he had done and is most proud of are a tax fairness initiative for middle-class families, minimum wage at $15 an hour, "equal work for equal pay for millions," and funding public education. He also listed reform to the criminal justice system, which gave voting rights in New Jersey to those who are on parole or probation, as well as in-person early voting for the first time in New Jersey.
"I want to make sure we're protecting women's health at all costs, including a woman's right to choose, " Murphy told Sharpton.
In the budget address delivered in February, Murphy talked about two measures that were enacted to ensure tax fairness: expansion of earned income tax credit and reinstatement of the millionaire's tax.
The Tax Foundation—a Washington-based independent tax policy nonprofit that evaluates how well states structure their tax systems and provides a road map for improvement—ranked New Jersey's tax system as the worst in the nation in 2021, according to a Foundation's report (pdf). The state's individual income tax system was also ranked last.
"New Jersey […] is hampered by some of the highest property tax burdens in the country, has the second highest-rate corporate and individual income taxes in the country and a particularly aggressive treatment of international income, levies an inheritance tax, and maintains some of the nation's worst-structured individual income taxes," the Tax Foundation's report said.
Murphy told Sharpton that he was also proud of the legalization of adult use of cannabis in New Jersey. "I did that for social justice with expunged 362,000 low-end drug crimes, overwhelmingly impacting young persons of color," Murphy said.
The legalization was intended for the next generation, the governor said, "In adult-use cannabis, it's both for the next generation and the last generation, who were so damaged by the war on drugs."
Making college more affordable was also one of the things Murphy said he was proud of.
Murphy's administration implemented a program allowing New Jersey families with income lower than $65,000 to apply for tuition-free college if they satisfy certain eligibility criteria. However, the benefits of this program could be offset by raising tuition costs, room and board costs, as well as books costs, according to a NJ.com analysis.
Only New Jersey's private religious colleges decreased their tuition between 2017 and 2020, NJ.com reported. However, state Republicans said that the tuition-free college program will contribute to tax increase, which in turn will make it difficult for all to save for college and afford tuition, NJ.com reported.
"The fact is hard-working, middle-class people still do not qualify for free community college or reduced tuition," Stami Williams, Ciattarelli's campaign communications director, told NJ.Com.
However, illegal immigrants in New Jersey have been eligible to obtain state-funded financial aid to pay for college education if they satisfy certain criteria under the law signed by Murphy in 2018.
Challenging Incumbent Governor
Murphy's Republican challenger runs under the campaign slogan "Let's Fix New Jersey."
Ciattarelli told The Epoch Times at a "Meet and Greet" event in Woodbridge, New Jersey, that the state currently has the "highest property taxes in the nation."
"It's the worst place in the nation in which to do business; our government spending is out of control in Trenton [the state's capital]; we're not supporting our local and state police as we should be, and our public school curriculum isn't teaching critical life skills or providing vocational training to our students," Ciattarelli continued.
"Those are the five areas that are very broken. I want to fix those things. It seems as though the people of New Jersey agree," the Republican governor hopeful summarized.
To address these issues, Ciattarelli said that if he gets elected governor, he would "lower property taxes, create more jobs, control spending, support our local police so they can do their job to make our community safe, and change the public school curriculum."
According to a study conducted this year by WalletHub—a personal finance and credit advisory website—New Jersey is the worst place in the nation to start a business. WalletHub ranked all states based on a variety of metrics. New Jersey also scored the lowest rank in terms of business costs, was placed at a rank of 39 in terms of the business environment, and ranked 11th in terms of access to resources, the study said.
New Jersey state Sen. Steve Oroho pointed out in a statement that the payroll tax hike imposed on employers to cover the projected deficit in the unemployment insurance fund was unnecessary.
The Murphy administration forecasted high payments in unemployment benefits in New Jersey, which would result in the unemployment insurance fund deficit of nearly $1 billion in June, while in fact, the state unemployment fund held more than $51 million in surplus at the end of June—a billion-dollar miss, Oroho said in the statement on Thursday.
"The unemployment insurance tax increase [set to take effect at the end of October] was not announced until Friday, August 13. There was plenty of time for the administration to recognize that their forecast was way off and to nix any tax increase," Oroho, a Republican, noted in the statement.
Moreover, New Jersey has also borrowed nearly $4 billion and the state's spending is up $11 billion in less than four years' time, Ciattarelli said during a press conference on Wednesday in Hoboken, New Jersey.
Get Out to Vote
The Republican candidate encouraged people to vote and to tell others either directly or through social media to vote too.
"Let us not wake up the morning of Nov. 3—Wednesday, Nov. 3—and find out we lost by 1797 votes—not with what's at stake: the future of our state," Ciattarelli said, referring to former Republican Gov. of New Jersey Tom Kean who won the election by 1797 votes with 3 million votes cast.
"Get out, remind people what's at stake. … Our future is at stake."
Ciattarelli said that he himself won seven elections in New Jersey. He told the audience his story of running for a town council seat in a mostly Democratic town where all six council seats were taken by Democrats.
"On Memorial Day, I started knocking on every door. And on Labor Day I was done. I went back and knocked on every door again. And the people of my hometown gave me the privilege of serving on that council. And three years later, I won with 88 percent of the vote."
Ciattarelli said it taught him that the hard-working, decent people of New Jersey will vote for a person who gives them a reason to vote.
"Here's my reason. There are two things that everybody in this country wants: opportunity and security. And I believe a common-sense, conservative approach provides opportunity and security to people of all colors, all races, all ethnicities, and all religions in this most diverse state in the country," Ciattarelli told people.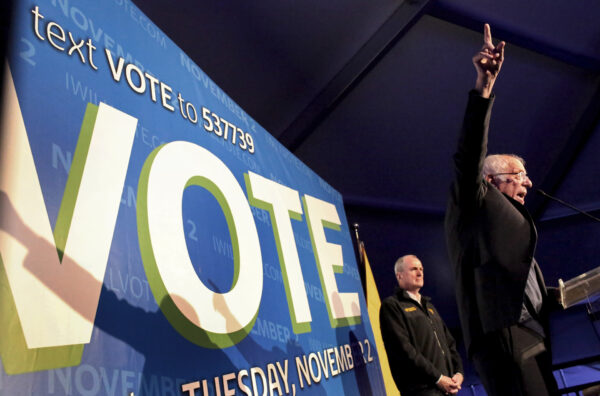 Murphy held a campaign rally at Rutgers University in New Brunswick, New Jersey, on Thursday where he was joined by Sen. Bernie Sanders (I-Vt.).
Murphy touted at the rally the policies he implemented, such as tax fairness for middle-class families, minimum wage at $15 an hour, more affordable public education, more child care, environmental policies, and legalizing marijuana.
"We have come a long way but our work is not done. We have to keep moving forward, we cannot go backward," Murphy said. "You have got to vote either by mail or early in-person voting for the next three days—or if not, on Tuesday, Nov. 2."
Sanders, an openly socialist member of the Congressional Progressive Caucus, called Murphy "a progressive governor," asked the audience to vote for Murphy and to encourage others to vote as well.
"I'm asking you to bring out two or three of your friends. Let us win this election," Sanders said at the rally.