The number of members of Congress who will commit to challenging the results of the Nov. 3 election during the upcoming joint session is expected to grow.
"There's three of us that have publicly said that we will refuse to certify Electoral College votes for Joe Biden, and I definitely have a very strong feeling that there will be more of us," Rep.-elect Marjorie Taylor Greene (R-Ga.) told The Epoch Times.
"The number will grow, you'll see the number will grow, because I'm talking to a lot of people. Seventy-five million Americans voted for President Trump, and right now 70 percent of that number feel that that the election was stolen, and that fraud has taken place, and we know that we have big problems here in Georgia. So I think this is definitely something the American people will be supporting us in our efforts."
Greene, Rep. Mo Brooks (R-Ala.), and Rep-Elect Barry Moore (R-Ala.) have publicly committed to challenging the election results during the upcoming joint session of Congress.
"I think as we, as the process becomes more public and the media starts to get the word out that this is our plan, I feel like there's good good conservative people, ethical people—I'd love to see some Democrats join us," Moore told The Epoch Times.
"I think we'll have some join us, certainly some people who say they will stand by the president on the campaign trail—it's time now to stand and to make sure we get this right."
Greene and Moore will be sworn in on Jan. 3 next year, three days before the joint session of Congress.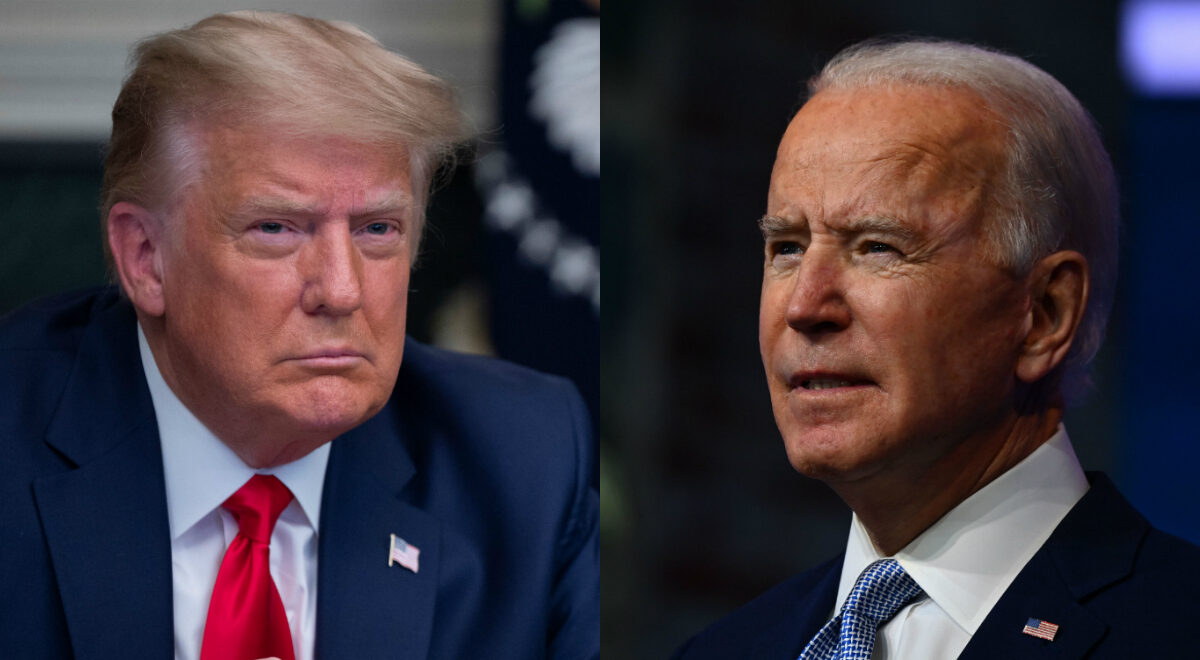 President Donald Trump, left, and Democratic presidential nominee Joe Biden in file photographs. (Getty Images)
According to the current vote count, Biden, the Democratic presidential nominee, narrowly won the election by capturing traditional Democratic states and most swing states.
President Donald Trump and other Republicans allege fraud and other irregularities occurred during the election, such as extended mail-in ballot deadlines that they assert were unlawful.
The Epoch Times is not calling the race at this time because of ongoing lawsuits and related matters.
Under the Electoral College system, Americans who vote for the president are in actuality voting for a slate of electors who go on to vote for the candidate that won the state's total vote count. Each state has a certain number of electoral votes based on its population.
Electors are scheduled to meet and vote on Dec. 14 in their respective states. They sign certificates of the vote, which are sent to the vice president, the archivist, and the secretary of state and district court judge in their respective states.
Electors can cast votes for candidates who don't win the popular vote, but doing so is unusual.
The final decision on the votes come before Congress early next year. Both congressional chambers meet in January to count the votes and declare the winners of each state.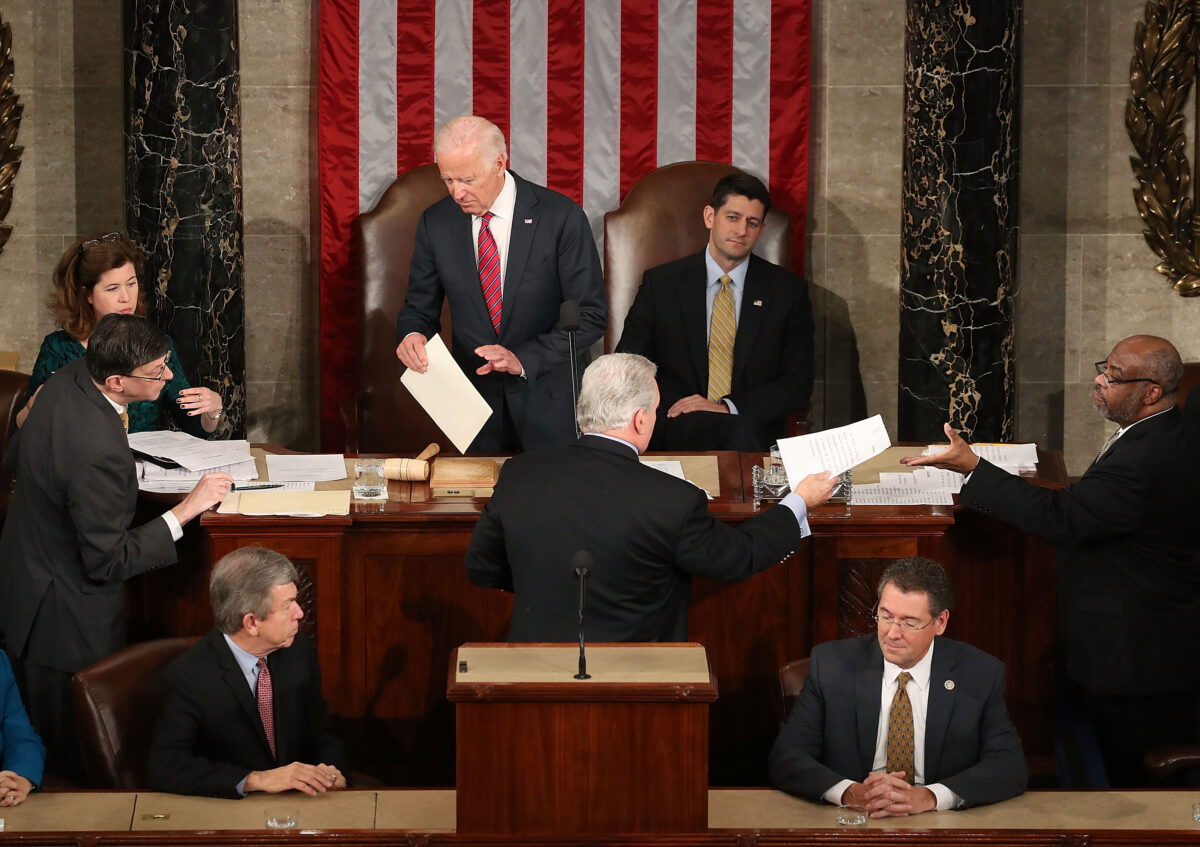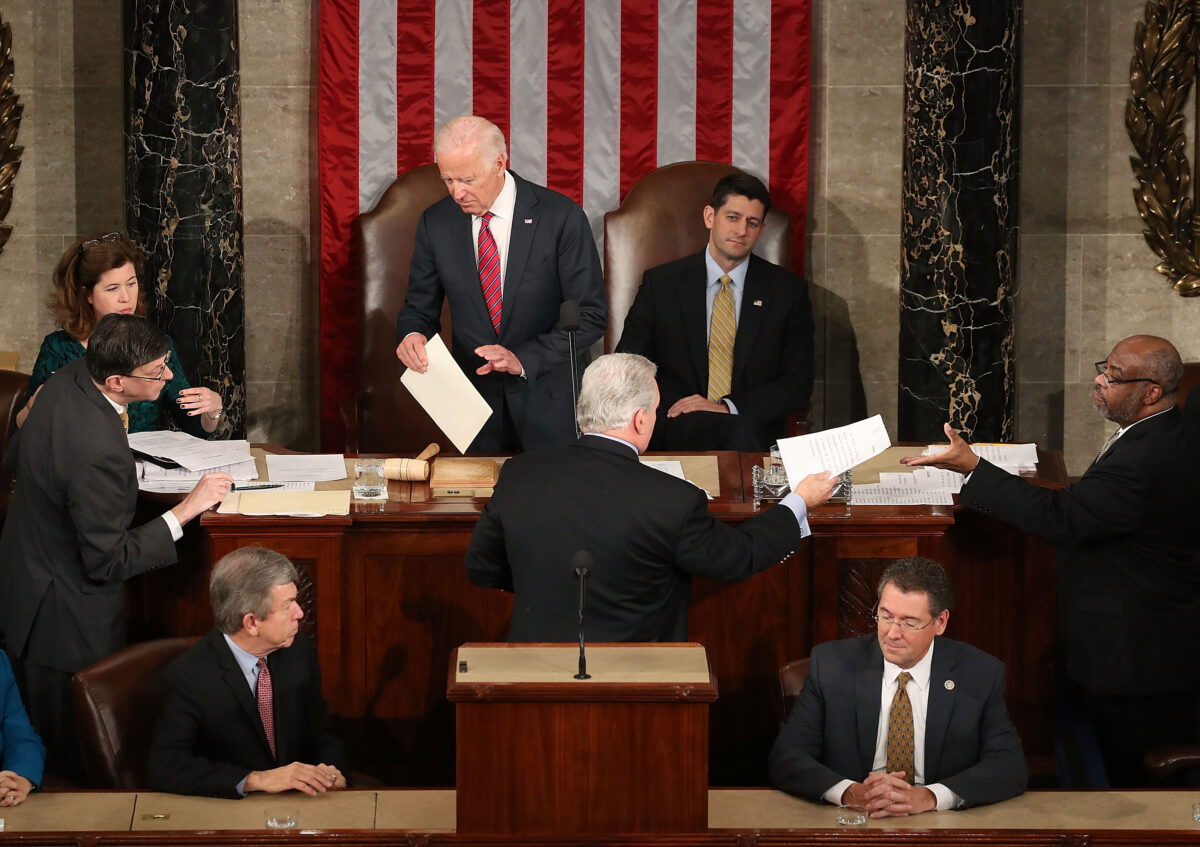 Then-Vice President Joseph Biden, presides over the counting of the electoral votes from the 2016 presidential election during a joint session of Congress in Washington on Jan. 6, 2017. (Mark Wilson/Getty Images)
Objections can be filed but must be endorsed by at least one senator and one representative. If an objection is registered properly, the joint session breaks up and each chamber meets separately to consider and vote on the objection. A simple majority passes the objection, rendering the electoral votes for the state in question null.
Democrat representatives registered objections in 2016 but no senators would join them.
No senators have yet committed to a challenge this time around.
Both Greene and Moore have been working to sway senators and senators-elect, but each declined to identify any by name on the record.
"I'm in the process of talking to several senators. I don't want to say their names right now, but I feel pretty hopeful that I'll be able to bring out a senator. I think that we'll be able to get one," Greene said.
Inquiries sent to every Republican senator and senator-elect who will or who will possibly be in the next Congress weren't immediately returned.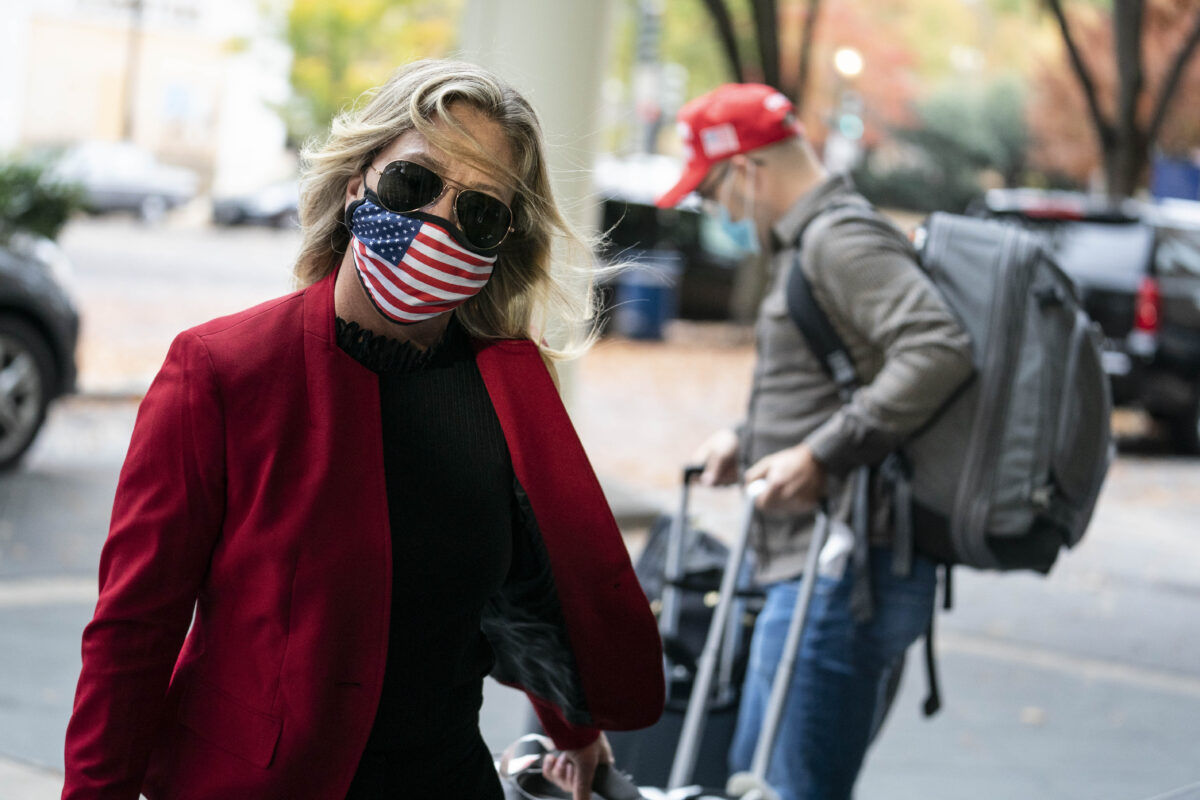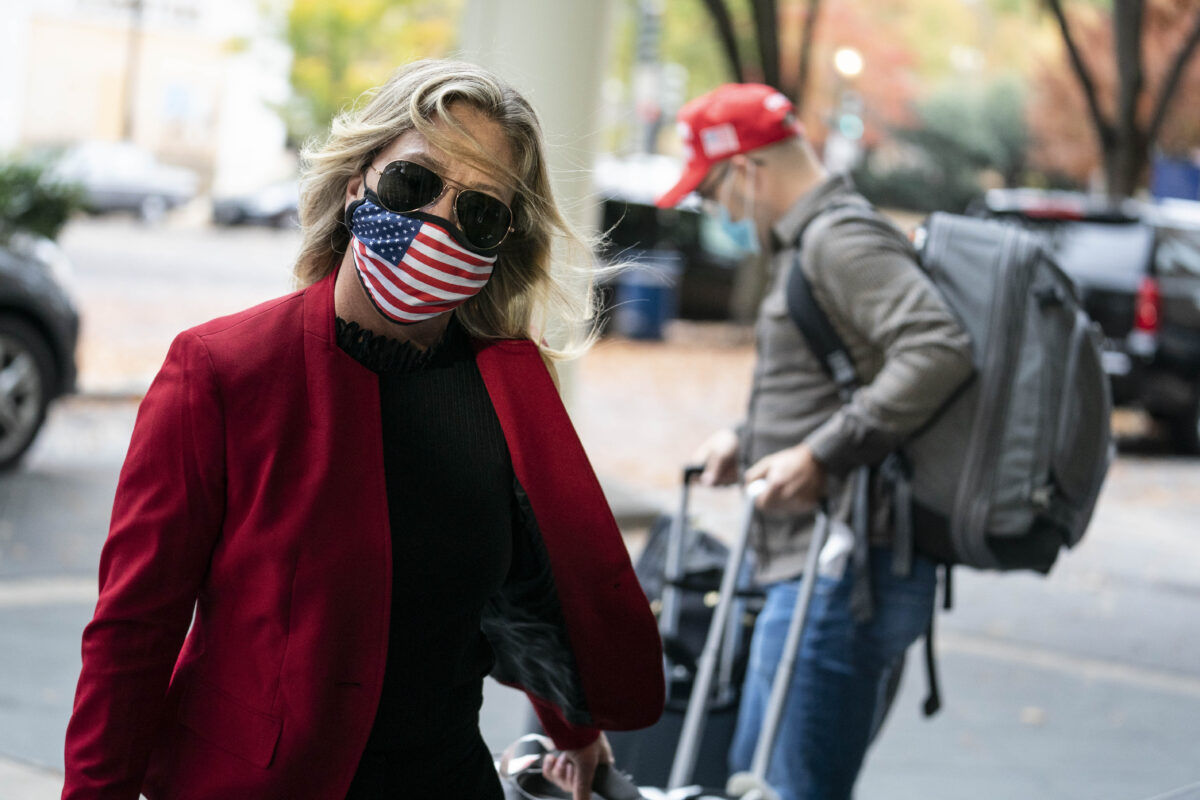 Rep.-elect Marjorie Taylor Greene (R-Ga.) arrives to the Hyatt Regency hotel on Capitol Hill in Washington on Nov. 12, 2020. (Sarah Silbiger/Getty Images)
Trump thanked Brooks last week for promising to challenge the results. His campaign didn't respond when asked whether the president is in contact with lawmakers regarding the planned challenges. Biden's team didn't return an inquiry.
The challenges are aimed at triggering a little-known, secondary system of electing a president if no candidate reaches the 270 electoral votes required to win. The House of Representatives chooses the president and the Senate picks the vice president. In that scenario, each state has a single vote in each chamber. Republicans have the majority under that system in the House and the Senate, making the option attractive to them.
Brooks, Greene, and Moore plan to file objections because they believe Trump won the election despite the current vote count.
"I've lived in Georgia my entire life, and I know for a fact that Georgia did not elect Joe Biden for president. We reelected President Trump," Greene said, pointing to testimonies given last week during a state legislative hearing in Georgia, alleged election fraud, the video with suitcase-like containers, and counties finding thousands of uncounted ballots during a hand audit.
Greene and Moore pointed to the large crowds Trump drew in pre-election rallies, contrasting them to Biden spending months at home and, when he emerged, holding events with just dozens of attendees.
"I was an early supporter of Trump in 2016, and people were concerned that he could beat Hillary, and I said, 'watch the rallies, just look at the numbers.' And then, this year, the same exact thing, people would ask me, they'd say, 'well he's behind in the polls,' and I'd say, 'watch the rallies,'" Moore said.
"My only concern is that they steal it, I never dreamed that they would actually try to steal it. The data just doesn't line up to me and then I have concerns about process, and regardless—regardless—of who ends up winning, we've got to get this right. The American people need to have confidence in the process."