The chairman of the National Republican Senatorial Committee (NRSC) said the organization is planning an all-out effort to combat potential irregularities ahead of the crucial Senate run-off race in Georgia.
Sen. Todd Young, R-Ind., told "The Cats Roundtable" on WABC 770 AM-N.Y. on Sunday, that, "we have more attorneys, we have more election observers, and on-the-ground election experts than we've ever had in a U.S. Senate election."
The Senate runoff in Georgia has come into the spotlight, with control of the upper chamber hanging in the balance. Republicans currently hold a 50-seat majority in the Senate, but if Democrats win both runoffs, that would yield a 50-50 split, giving them an effective majority if Democrat Joe Biden and running mate Sen. Kamala Harris (D-Calif.) prevail in the contested election as the vice president can cast a tie-breaking vote in the Senate.
Young said that besides the NRSC, there would be a range of groups and individuals, including the Republican National Committee and volunteer attorneys, who would take part in efforts to ensure election integrity, adding that, "we're prepared to contest any irregularities that might happen."
His remarks come amid claims by President Donald Trump, his campaign, and a number of supporters, that the 2020 election was marred by widespread voter fraud and other irregularities. While evidence provided in a number of legal challenges has thus far failed to convince judges of the presence of widespread election fraud, Trump's legal team has said it is building its biggest case yet in this regard and will soon file a related lawsuit.
"It is now quite obvious that we are in the middle of what is going to be maybe the most important, historical, election contest that we've ever had," said Trump attorney Rudy Giuliani, in a Nov. 21 video statement.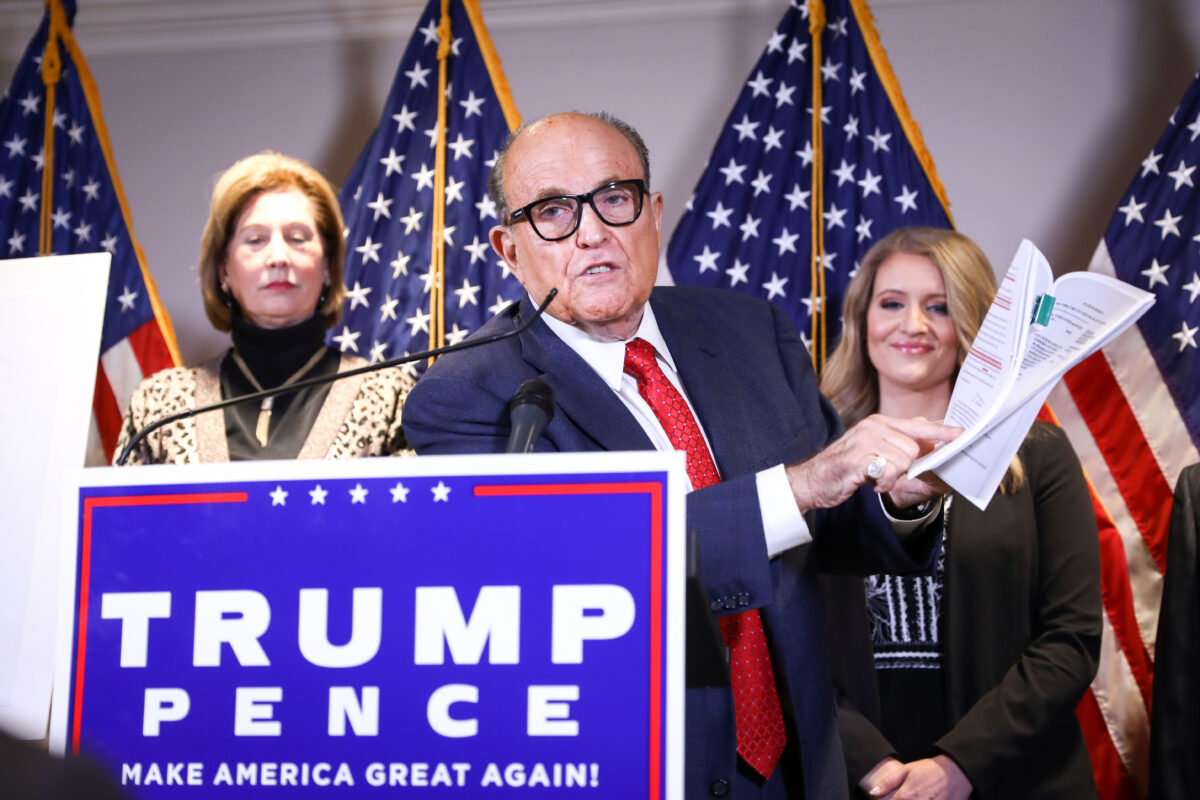 Trump lawyer and former New York City Mayor Rudy Giuliani speaks to media while flanked by attorneys Sidney Powell (L) and Jenna Ellis (R) at a press conference at the Republican National Committee headquarters in Washington on Nov. 19, 2020. (Charlotte Cuthbertson/The Epoch Times)
"The facts are coming out and the facts are, not one, isolated single act of fraud, not one state in which a problem has been found in computation," but fraud that is widespread, he continued.
"This is a legitimate, very legitimate challenge to an election where there is substantial evidence, of which I will impart maybe 20 percent to you right now, of fraud," Giuliani said, before detailing a number of irregularities and teasing the release of sworn affidavits, direct evidence, and "statistical reports that corroborate the direct evidence."
Young, in his interview on WABC, said one of the things that Republican election monitoring efforts in Georgia would focus on is what he called the so-called "voting refugee" phenomenon, which he described as the practice of out-of-state voters establishing residency in Georgia and casting votes for their preferred candidates.
He referred to former Democrat primary presidential candidate Andrew Yang "encouraging people to descend on the state of Georgia from places like San Francisco and other liberal hotspots from around the country, establish residency in Georgia in a lickety-split second and cast their votes for the Democrats."
Citing "incredibly loose residency requirements" in Georgia, Young said Georgia's attorney general and secretary of state are already looking for ways "to crack down on any of those voting refugees, voting migrants, who have decided to become Georgians for a few weeks in order to cast votes on behalf of Democrats."
The runoffs in Georgia, scheduled for Jan. 5, 2021, pit Sens. Kelly Loeffler (R-Ga.) and David Perdue (R-Ga.) against Democrat challengers Raphael Warnock and Jon Ossoff, respectively.