Republican governors and state legislators across the country say efforts to bring integrity, accountability, and security to the voting process may be made null and void if legislation introduced by House Democrats is passed.
Opponents of the legislation—H.R. 1, For the People Act—say it would give the federal government the power to gain control over the election process by imposing mandates on the states. They said it would eliminate basic security protocols that states have in place and interfere with the ability of states to determine the qualifications and eligibility of voters, not allow citizens to participate and speak freely in the political process, and fail to ensure the accuracy of voter registration lists.
House Rules Committee Ranking Member Rep. Tom Cole (R-Okla.) called the title of the bill a misnomer during a committee meeting on Monday.
"I said this bill's title is a misnomer because I do not believe this bill has anything to do with the American people," Cole said. "This is a bill that's about preserving the present Democratic majority. It is a bill by the majority, for the majority, and is intended to entrench the majority in power for years to come."
According to a Congressional Research Service report, "The Rules Committee is instrumental in recommending procedures for considering major bills and may propose restrictions on the floor amendments that Members can offer or bar them all together."
Other House Republicans, including House Minority Leader Kevin McCarthy (R-Calif.), have recently voiced their opposition to the sweeping election reform bill, which they say is a power grab by Democrats.
(Left) Speaker of the House Nancy Pelosi (D-Calif.) talks to reporters in Washington, on Oct. 1, 2020. (Chip Somodevilla/Getty Images); (Right) House Minority Leader Kevin McCarthy (R-Calif.) speaks at the weekly news conference on Capitol Hill in Washington, on Dec. 3, 2020. (Tasos Katopodis/Getty Images)
"The American public has the most to lose because we would lose our freedom," McCarthy said on Fox News' "Sunday Morning Futures."
"When you put a bill into Congress, the majority party reserves the first numbers. This is H.R. 1, so this is most important for Nancy Pelosi to hold on to her power," he added, referring to the Democratic House Speaker.
Some of the many provisions in HR. 1 include requiring that states implement early voting, automatic voter registration, same-day registration, and online voter registration, restore the ability of felons to vote, implement no-fault absentee balloting, as well as mandating 15 days of early voting.
The legislation would also require states to automatically register all adults, regardless of citizenship status, from state and national databases, would end voter ID requirements, and mandate that states accept absentee ballots up to 10 days after an election.
Many states, including key battleground states, are making an effort to reverse voting rules put in place due to the CCP (Chinese Communist Party) virus pandemic in the wake of numerous voting irregularities found during the Nov. 3, 2020, presidential election.
Many of the questions voters have about the lack of integrity in the voting process have come from the expanded mail-in voting, early voting, relaxation of verification rules, and extensions to ballot receipt deadlines.
In order to address these concerns from Republican voters in states like Georgia, Pennsylvania, and Arizona, lawmakers are trying to enact legislation to shore up areas where voters see potential for fraud created by relaxed voting rules.
Meanwhile, House Democrats unanimously support H.R. 1, saying it will expand voting rights and "clean up corruption" in politics.
Stacey Abrams, a former Georgia Democratic gubernatorial candidate and founder of voting rights nonprofit Fair Fight Action, said at a House committee hearing on the For The People Act on Feb. 25 that there was no voter fraud and the laws being introduced by state officials are not to improve election integrity.
"A lie cloaked in the seductive appeal of election integrity has weakened access to democracy for millions by promoting voter suppression," said Abrams.
Sen. Jeff Merkley (D-Ore.), a lead sponsor of H.R. 1, called the Republican efforts "anti-democratic."
"There's an explosion of Republican activity, governors, and legislatures across the country, working to pass bills to keep people from voting," said Merkley. "To me, this is entirely anti-democratic."
In Georgia, which went to President Joe Biden by a narrow margin, the Senate passed legislation that would mandate that voters submit photocopies of voter identification documents for absentee ballot applications.
In Pennsylvania, lawmakers have said they will repeal the state's 2019 "no-excuse" mail-in voting system.
Republican state Sens. Patrick Stefano and Doug Mastriano last month said in a Senate memorandum that they "intend to introduce legislation repealing the no-excuse mail-in ballot provisions" put in place two years ago.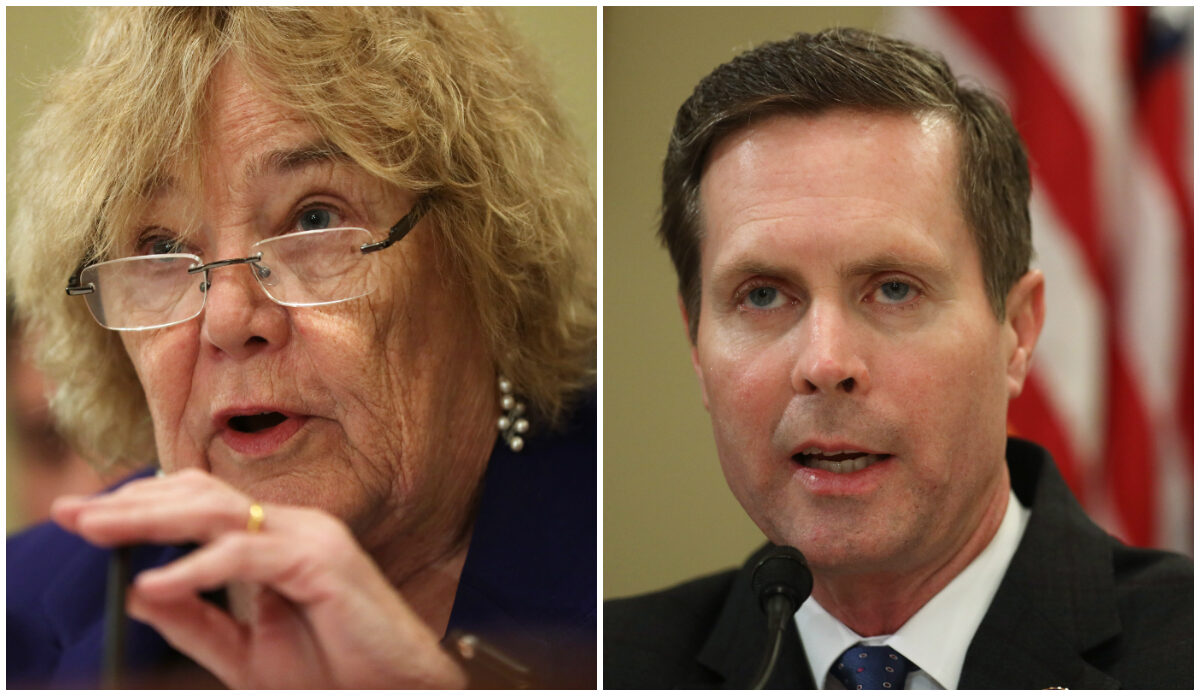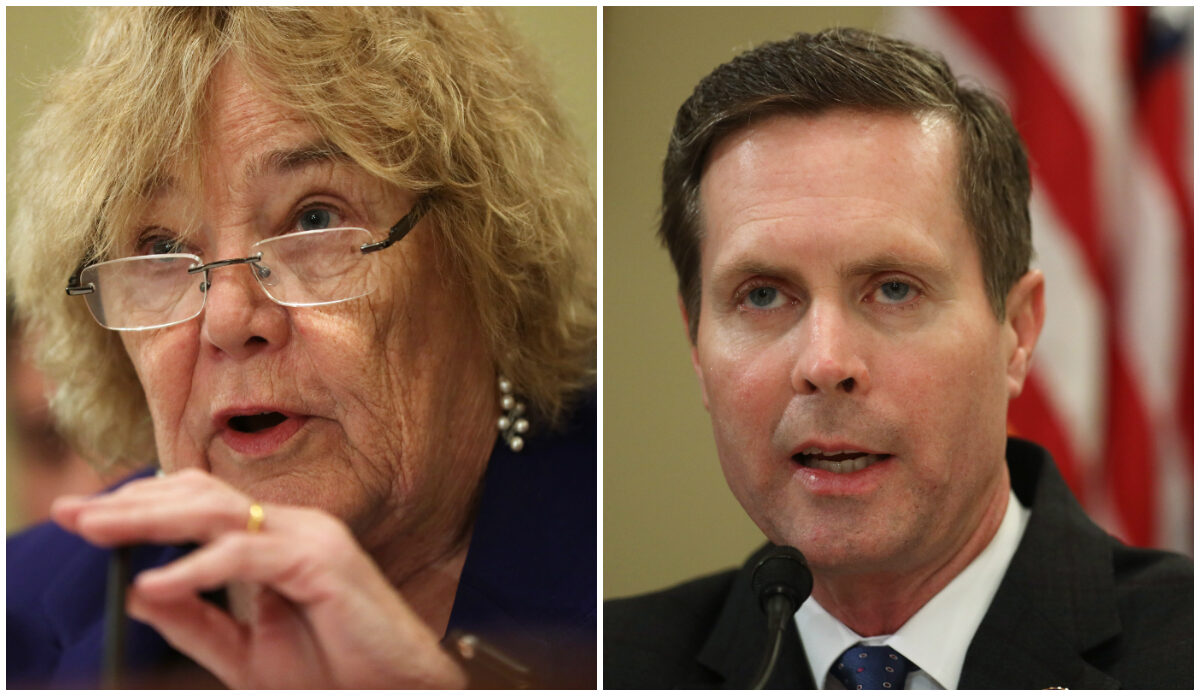 (L) House Administration Committee chairperson Rep. Zoe Lofgren (D-Calif.) and (R) House Administration Committee ranking member Rep. Rodney Davis (R-Ill.)) speak during a hearing on "2020 Election Security-Perspectives from Voting System Vendors and Experts." before the Committee on Jan. 9, 2020 on Capitol Hill in Washington, DC. (Alex Wong/Getty Images).
"By removing the provisions of law that allow for no-excuse mail-in ballots, we can regain some trust in our elections' integrity," the senators wrote.
House Administration Chair Rep. Zoe Lofgren (D-Calif.) told her colleagues during a Monday Rules Committee meeting that the state lawmakers' legislation will lead to voter suppression and that H.R. 1 guarantees everyone has access to voting.
"States are now introducing suppressive voter legislation at an alarming rate, bills that if they were to become law would almost certainly disenfranchise voters with the pretext of election integrity," said Lofgren.
H.R. 1 is expected to be debated on the House floor this week.
Top sponsors of the bill said in a Jan. 4 press statement that H.R. 1 is an "anti-corruption" bill introduced to fight voter suppression, gerrymandering, and "special-interest dark money."
"H.R. 1 will protect the right to vote, ensure the integrity of our elections, hold elected officials accountable and end the era of big, dark, special-interest money in our politics," said Pelosi, Lofgren, and Democracy Reform Task Force Chair Rep. John Sarbanes in the joint statement.