Former New York City Mayor Rudy Giuliani said Tuesday that the Trump campaign is prepared to lose election-related cases in a bid to push them to the U.S. Supreme Court.
"Frankly this is a case that we would like to get to the Supreme Court," he said in an interview with Fox Business, referring to a Trump campaign case to get around 700,000 mail-in ballots thrown out in Pennsylvania. "So we're prepared in some of these cases to lose and to appeal and to get it to the Supreme Court."
"You might remember in Bush v. Gore, the Bush campaign lost in the state of Florida because it was a Democratic court. You're not going to win every one of these … but in some cases you win, some cases you lose," Giuliani told Fox Business, while noting that even though the judges in some cases were appointed by Democratic presidents, he doesn't view them as necessarily unfair.
A case in Pennsylvania, he said, will be President Donald Trump's "first established vehicle on our way to the Supreme Court." Giuliani added there is another case in Michigan that is "drafted and ready to go" to the Supreme Court, while saying that lawsuits in other states could also be heard in the nation's highest court.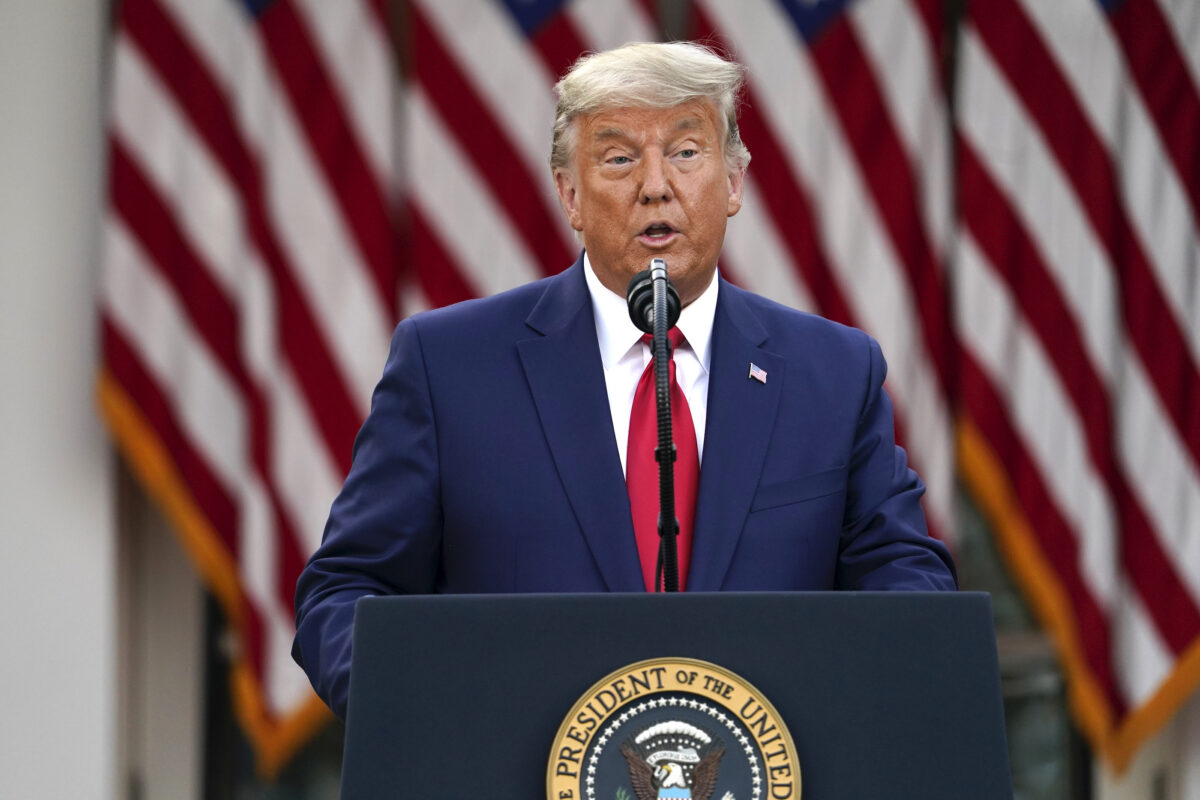 President Donald Trump speaks in the Rose Garden of the White House in Washington on Nov. 13, 2020. (Evan Vucci/AP Photo)
"I believe we have amassed more than enough evidence in Pennsylvania, Michigan, and Wisconsin, and Georgia," the former mayor also said.
It came as Giuliani told the U.S. District Court for the Middle District of Pennsylvania that he is seeking to join Trump's campaign over a ballot-certification case. The court and Judge Matthew W. Brann admitted Giuliani, a former federal prosecutor.
"If this is allowed without serious sanctions, this will become an epidemic," Giuliani told Brann in court Tuesday. "It just all happened to be in big cities controlled by Democrats who all of a sudden decided you don't have the right to inspect an absentee ballot. … You'd have to be a fool to think this was an accident."
Lawyers for Pennsylvania Secretary of State Kathy Boockvar, a defendant in the suit, described Trump's claims as generalized grievances and said they include speculative injuries that would not warrant throwing out the election results.
On Tuesday, Daniel Donovan, an attorney for Boockvar, said the campaign and the voters should not litigate their concerns of alleged voter fraud in court.
"They do have an avenue. If there are challenges from voters or campaigns, there's a path, but it's state court, not federal court," he said in his rebuttal to Giuliani.