The Senate on Thursday advanced President Joe Biden's $1.9 trillion COVID-19 relief plan, with Vice President Kamala Harris needing to step in and provide the tiebreaking vote.
All Republicans voted against beginning debate on the plan while all Democrats, including two nominal independents, voted for it. That left the decision up to Harris, the president of the upper chamber.
"On this vote the yeas are 50. The nays are 50. The Senate being equally divided, the vice president votes in the affirmative and the motion to proceed is agreed to," Harris told the body.
Harris has broken three ties since being sworn in on Jan. 20, compared to former Vice President Mike Pence's 13 tiebreaking votes across four years.
After the vote, Senate Majority Leader Chuck Schumer (D-N.Y.) shook his head up and down and appeared to smile, reporters in the room said. He and other Senate Democrats reached an agreement with Biden about crucial details in the package earlier this week.
Following the vote, the Senate clerk began reading the legislation. Schumer tried to waive the reading, but Sen. Ron Johnson (R-Wis.) objected, forcing a full reading of the 600-page bill.
Johnson was also leading an effort to arrange shifts to offer a flurry of amendments to the package to prolong debate on it.
"Historically what's happened in vote-a-rama is—I don't have exact figures, but it seems like we've always offered a couple of hundred amendments on the Republican side. You get a couple of those voted on and people tire out. I'm just setting up a process that keeps us from tiring out," he told reporters on Capitol Hill.
A vote-a-rama is a process during which the party in the minority can force on-the-record votes on amendments, which are added to the bill if they receive a simply majority.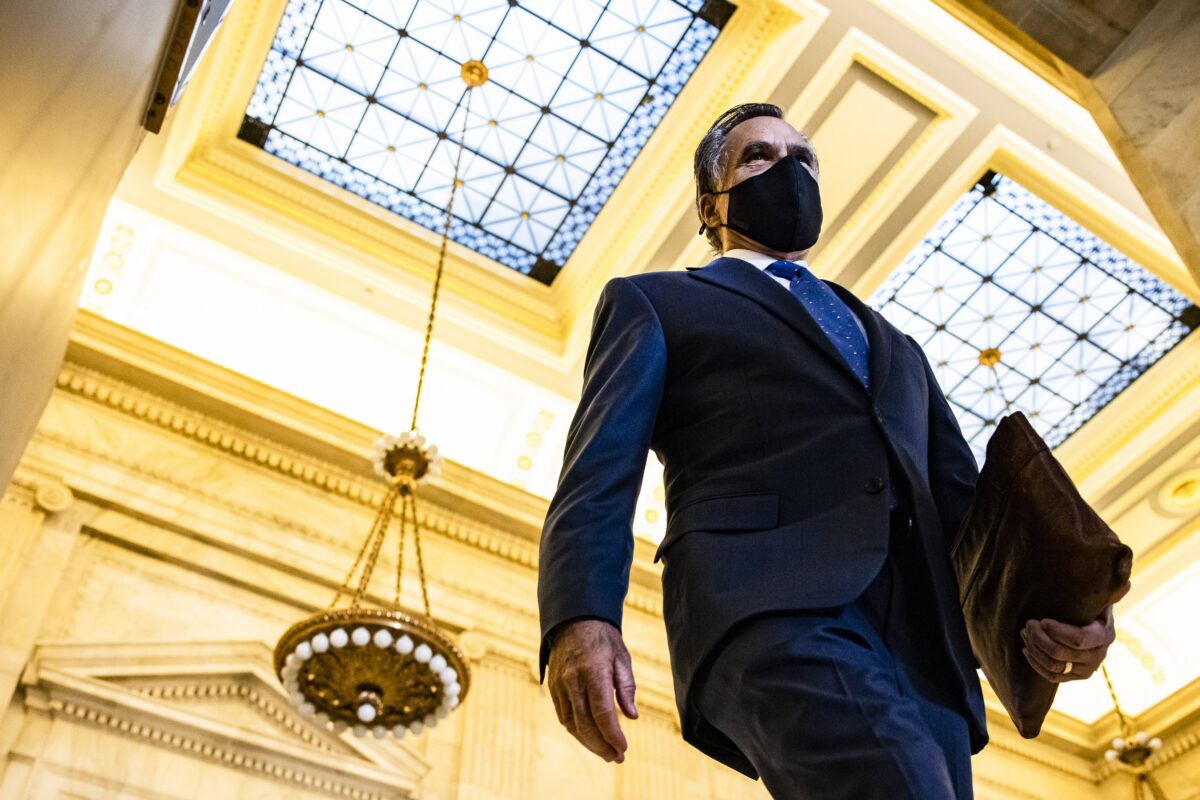 Sen. Mitt Romney (R-Utah) leaves the Senate GOP policy luncheon in the Rayburn Senate Office Building on Capitol Hill in Washington on March 2, 2021. (Samuel Corum/Getty Images)
Sen. Mitt Romney (R-Utah) said he and some fellow Republicans are working on several amendments and are hopeful they can get some Democrat support.
"But my guess is it's not likely that many of our amendments will get any Democrat support so I think it's very unlikely that that any Republicans will support the final bill," he said.
One example is requiring funding to only go to states or municipalities that either had a reduction in revenues or unreimbursed COVID-19 expenses.
"It would probably mean less money would go to states and localities," Romney added. "California, for instance, has huge surplus this year, and yet under the $1.9 trillion plan they're supposed to get another [approximately $20 billion] more. That doesn't make a lot of sense to go borrow that money to give to a state that doesn't need it."
Sen. Joe Manchin (D-W.Va.), perhaps the most moderate Democrat in the Senate, told reporters that he was considering the amendment. He signaled he will support the final package.
Republicans largely oppose including funding to states and municipalities at all in the relief package. Democrats failed to get it included in the last bill, which was passed in December 2020 and signed by President Donald Trump.
The lower chamber passed the relief package last week through the budget reconciliation process, a procedural move that enables Democrats to pass it in the upper chamber with no Republican support.
Sen. Lisa Murkowski (R-Alaska), who has said she's open to voting for the bill, voted against advancing it but maintained a willingness to support it. She told reporters after the vote that the latest version of the bill had just hit her inbox, so she hadn't gotten a chance to read it.
"So I've said, I'm going to look and see what's in it," she said, noting that some of the provisions already included "are clearly not COVID-related."