Republicans in Utah are calling for the censure of Sen. Mitt Romney (R-Utah) after he and six other Republicans joined Democrats in voting to convict former President Donald Trump.
Trump was acquitted because the vote count fell short of the threshold for a conviction, but the Republicans who voted against him are facing backlash from within the party.
The Utah GOP declined to consider punitive measures against Romney, instead releasing a statement saying both Romney and Sen. Mike Lee (R-Utah), who voted to acquit Trump, have been criticized for their choices.
"The differences between our own Utah Republicans showcase a diversity of thought, in contrast to the danger of a party fixated on 'unanimity of thought,'" the party said in a statement to news outlets. "There is power in our differences as a political party, and we look forward to each senator explaining their votes to the people of Utah."
That didn't satisfy Romney critics, who are now circulating a draft motion declaring that he "has failed, and continues to fail, to represent the average conservative Utah Republican voter."
The petition also says Romney has misrepresented himself as a Republican and "prioritized his personal and political vendetta against" Trump at the expense of the party and the U.S. Constitution.
Utah GOP Chairman Derek Brown told the Salt Lake Tribune that he knew of the motion but hadn't yet seen it.
"I've been saying the best censure occurs at the ballot box," he said.
Romney was elected in 2018, so he won't face reelection until 2024.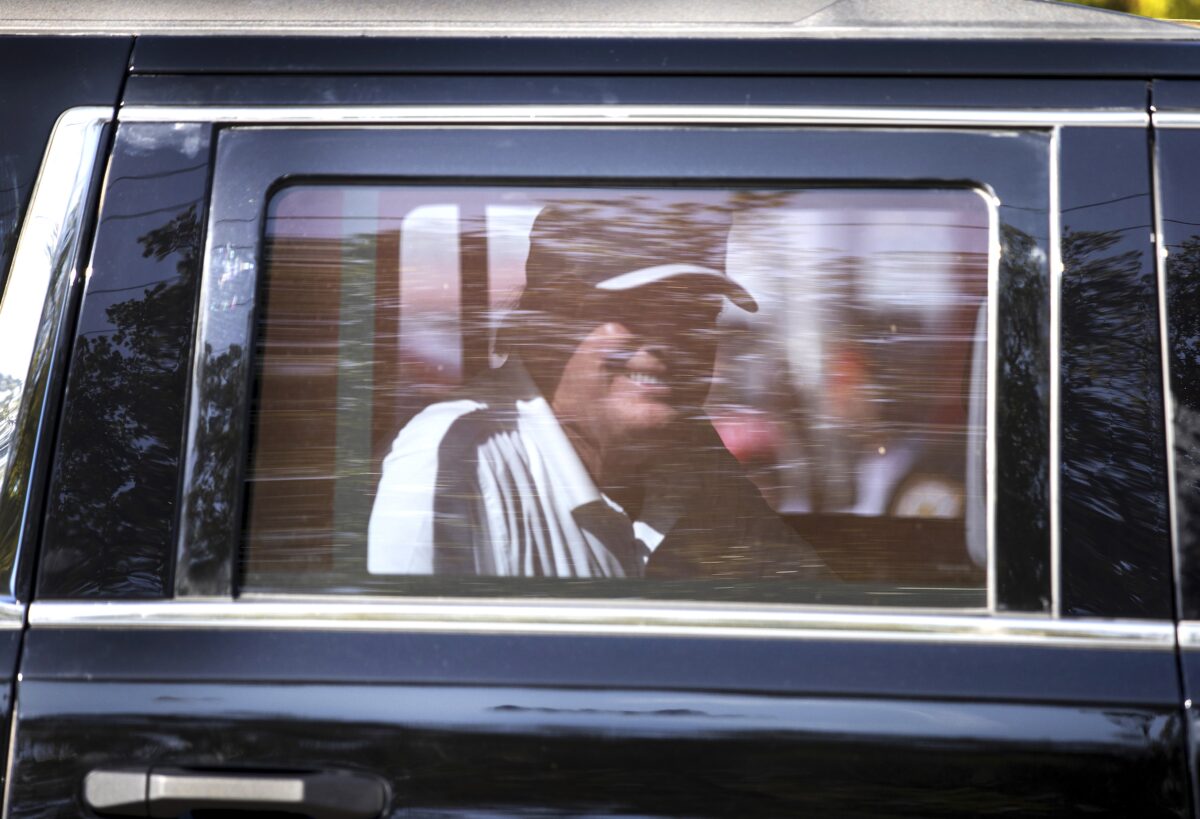 Former President Donald Trump reacts as he is driven past supporters in West Palm Beach, Fla., on Feb. 15, 2021. (Joe Raedle/Getty Images)
Romney's vote against Trump wasn't surprising, considering he was the only Republican in either chamber of Congress to vote against him in the first impeachment saga.
Trump was acquitted in that effort as well.
"There wasn't enough support to censure Sen. Romney a year ago. The impact of these kinds of resolutions has been minimal," Brown said, adding: "My focus is retaining the people who joined the Utah Republican Party this past year and reaching out to those who have left the party in order to bring them back."
Several senators who voted with Romney have been censured, including Sens. Richard Burr (R-N.C.) and Bill Cassidy (R-La.).
Janalee Tobias, a Republican activist, posted a petition on Facebook calling for Romney to resign. The petition was created in 2020 after Romney's vote in the first impeachment trial. It had about 35,000 signatures as of early Tuesday.
Lee in a statement said he voted to acquit Trump because the House impeachment managers didn't prove their case.
"The House managers' burden in this trial was to prove first that the Senate should exercise its impeachment jurisdiction in a case against a former president; and second that he committed the high crime of inciting an insurrection. The House managers did not clear either hurdle," Lee said. "The fact is that the word 'incitement' has a very specific meaning in the law, and Donald Trump's words and actions on January 6, 2021, fell short of that standard. The House rushed its impeachment without an investigation, charged President Trump with a crime it failed properly to allege, and then sat on its poorly worded Article until after he left office."
Romney said he felt Trump was guilty.
"President Trump attempted to corrupt the election by pressuring the secretary of state of Georgia to falsify the election results in his state. President Trump incited the insurrection against Congress by using the power of his office to summon his supporters to Washington on January 6th and urging them to march on the Capitol during the counting of electoral votes. He did this despite the obvious and well known threats of violence that day," he said in a statement.
"President Trump also violated his oath of office by failing to protect the Capitol, the vice president, and others in the Capitol. Each and every one of these conclusions compels me to support conviction."