TIJUANA, Mexico—On a bright, warm afternoon in January, women on the streets of Tijuana's red-light district, Zona Norte, lean on the walls of run-down hotels and "gentlemen's clubs."
Some stand alone, looking down at their smartphones between catcalling passersby. Some, not wearing masks, stand together and chat.
The business of selling sex continues day or night—pandemic or no pandemic—in the three-block-square area.
Inside the clubs, women and underage girls are on hand to fulfill requests, Proyecto Rahab members told The Epoch Times. Proyecto Rahab is an anti-trafficking coalition; most of its members are from the northern part of Mexico's Baja California state and from Southern California.
With a fairly short drive from LA and Orange counties to this red-light district, many customers are Californians, though the clientele come from all over the world. On the drive from the U.S. border, billboards promote gentlemen's clubs with suggestive images of women.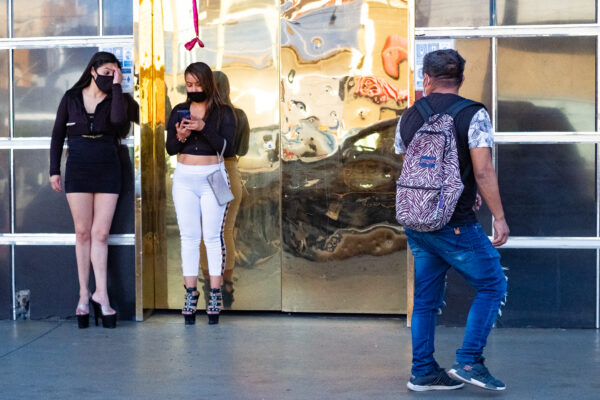 A man walks by two women standing near a strip club in Zona Norte, Tijuana, Mexico, on Jan. 16, 2021. (John Fredricks/The Epoch Times)
The group is concerned about the exploitation in Tijuana's unofficial "zona de tolerancia" (tolerance zone) for the sex trade, and it offers help to those looking to break their bonds. Although prostitution is illegal in Tijuana, police ignore it in this area. The Epoch Times saw police standing next to their cars in Zona Norte.
Drug cartels keep the human trafficking business running, Proyecto Rahab members told The Epoch Times. It's hard to collect data on the scope of the issue because of threat from the cartels, they said.
Hola Amiga
A Baja resident who has helped women in Zona Norte for more than four years spoke with The Epoch Times, requesting we use the pseudonym Mary.
"I say 'Hi friend, how are you doing?' You talk to them as if they are your neighbor and you are trying to show the love of Jesus to them," Mary said.
"I treat them as I would myself or my friends. … They are just like us. When you talk to them, when you try to connect to them, that's the attitude that you have to have."
Mary has a degree in psychology and attended formal theology training at a Christian learning institution in Northern California for establishing houses of worship. She served as the director of a safehouse in Southern California for some time.
She regularly hosts participants of short-term mission trips to Mexico's Baja California state. Many participants in her outreach are from Orange, San Diego, and Los Angeles counties.
Mary said her ministry first came together for worship and to encourage those working with people in need in this area. The ministry then expanded into outreach as the natural next step, to help the victims of the sex trade in this part of Tijuana.
It provides essential items, such as food, feminine products, and health items. It also provides meals, haircuts, and other services. Counseling and spiritual encouragement are an important part of its mission.
Magdalene Hope
Doug Bennett, founder of the nonprofit faith-based ministry Magdalene Hope, regularly facilitates what he calls "streetreaches."
"The overall goal is to share a message of hope and love through Jesus Christ and letting the women know that there is a way out," Bennett told The Epoch Times.
"We hand out backpacks to women in the red-light district who are being sold. The backpacks consist of everything a woman would need over the course of a weekend while being trafficked."
His ministry is based in Bakersfield, California, and has a chapter in Orange County. Bennett said he has been helping women voluntarily leave their forced sex labor for 11 years.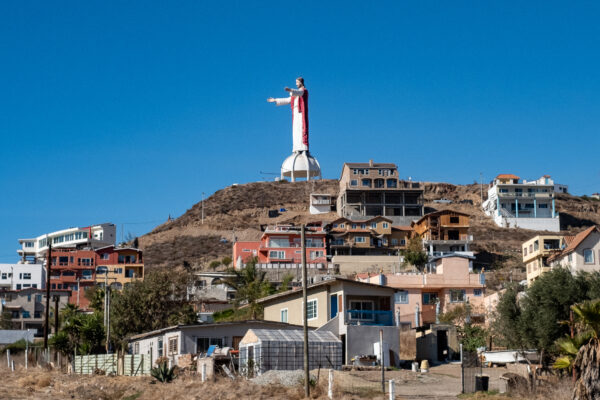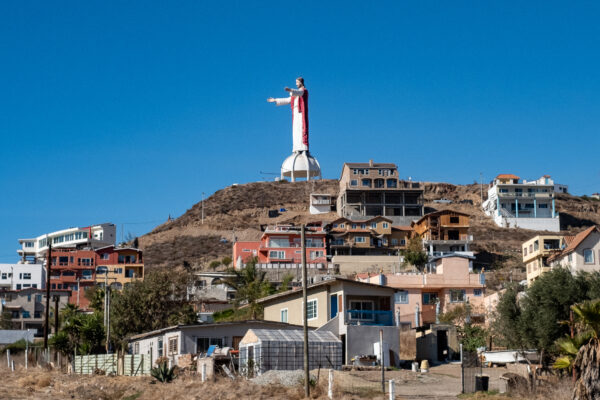 A statue of Jesus looks over a small coastal town in Baja California, Mexico, on Jan. 16, 2021. (John Fredricks/The Epoch Times)
Aside from his work in Tijuana, Bennett's ministry gives women coming out of trafficking a safe shelter for one year in Bakersfield, including counseling, therapy, and restoration in a faith-based environment.
"We have met women in the red-light district from all parts of Mexico, including Mexico City, that have been brought to Tijuana to be sold," Bennett said.
"These traffickers transport women on Interstate 5 from city to city, and it's not uncommon for these women to have seen us [Magdalene Hope] in a different city because the traffickers move the women to different regions to sell them to keep a fresh product for the men to buy and to keep law enforcement guessing or confused about their whereabouts."
His involvement with Proyecto Rahab began when the project first formed three years ago.
Proyecto Rahab
In February 2018, Proyecto Rahab brought together the few—mostly untrained and very under-resourced—people dedicated to ending human trafficking, founder Adam Stieve told The Epoch Times in an email.
It started with only a handful of people, almost exclusively Mexican. But many Americans eventually joined, providing more resources and training. It now includes more than 25 organizations.
"Most of the names of these organizations are unrecognizable," Stieve said. "The well-funded American organizations are not present there. Sadly, there is almost no attention given to this area that lies just a few miles from San Diego. Until now, it has been left largely ignored and forgotten, except by a few courageous individuals.
"Only by coming together do these devoted servants have any chance at combating the forces of evil, including the powerful cartels of Mexico."
On Jan. 16, Proyecto Rahab began the first in a series of training seminars.
This first one was for the existing caregivers who put their hearts into healing and reintegrating victims, Stieve said. About 70 people attended.
"The Rahab Project engages in all areas of anti-human trafficking, which include prevention, protection, prosecution, and partnership," Stieve said.
He said the training for caregivers would help them identify the different stages of post-traumatic stress disorder in victims and give appropriate treatments to help stabilize them initially.
Further training will include identifying the signs of human trafficking, working with authorities to combat it, how to teach life skills for victims to reintegrate in society, and how to access and share resources.
Among the experts giving training at the first seminar was a counselor from Fort Worth, Texas, who detailed American Psychiatric Association-approved therapy tailored to victims of commercial sexual exploitation, including children.
Many victims have only ever known fear and hopelessness, Stieve said. The training will help caregivers establish a safe and secure environment for them.
In addition to being trafficked, many victims are also recovering from drug addiction and domestic violence trauma, Stieve said.
"The journey starts with detox and ends with homeownership and a real job," he said.
Stieve is also the founder of Las Aves del Paraiso, the first safehouse in Baja designed specifically for adult women and their children. He has been involved with anti-trafficking initiatives in California and served in Mexico since 2016 by helping build homes, medical clinics, and orphanages; distribute food and other essentials; and provide other forms of care.
For most Americans, Tijuana is a notorious city to be contained by border, Stieve said. "But just on the other side of the wall are thousands of victims entrapped in a never-ending nightmare."
"Californians need to be aware that the cross-border sex tourism trade is continuing to fuel this illicit industry. A 'quick trip' across the border has consequences."
He said they're working to educate people in Mexico to prevent them from becoming victims, especially their children.
"This work is not for the faint of heart, especially in an area controlled by the cartel," he said. "But this bi-national effort is growing in strength and in numbers. The coalition is making a difference."
For more information, email Adam Stieve [email protected]