Orange County is one of the hottest, mostly untapped markets in the United States for retail cannabis sales, according to industry professionals—but not all of its citizens are pleased by the prospect.
This summer, Santa Ana will become home to Planet 13, a retail cannabis superstore with over 16,000 square feet of dispensary space—the largest in California. Co-CEO Bob Groesbeck said the site was chosen because of the county's potential for big business.
"We originally looked at about 100 locations statewide," Groesbeck told The Epoch Times. "We've got a very detailed checklist that we use to site superstores. They need to check all the boxes."
But while proponents point out that local municipalities will benefit significantly from the increased tax revenues generated by retail cannabis sales, others say the costs to cities will increase as well, making the advantages negligible.
Groesbeck said the population and vibrant tourist economy in Orange County were key factors that compelled them to set up shop in Santa Ana. Their first store in Las Vegas is the largest cannabis store in the world.
The Santa Ana store will initially open with 50 point-of-sale registers and as many as 240 employees.
Chris Boudreau, who opened the Orange County chapter of the Cannabis Chamber of Commerce, told The Epoch Times the county's market is "really overlooked."
"We've got a market that is 80 percent the size of the population of Oregon, but it's only got one city that allows stores," said Boudreau. "Like, that's a compelling statement. It's very interesting. And so I just saw a lot of need there that wasn't being served."
Though Santa Ana is currently the only city in the county where retail cannabis can legally be purchased, that's changing at a rapid pace.
The November election saw measures in three cities—Costa Mesa, La Habra, and Laguna Woods—that proposed various types of authorizing, regulating, and taxing cannabis receive passing votes. In Stanton, the Planning Commission authorized two retail cannabis facilities last December.
In Fullerton, however, the City Council recently overturned a previously passed ordinance that would have allowed retail cannabis within city limits, after a number of citizens spoke out against the measure.
Revenue Versus Cost
Municipalities hope that tax revenue from cannabis will help fill budget gaps caused by the pandemic, and cannabis superstores like Planet 13 will provide needed jobs. Yet some have questioned the projected fiscal benefits and highlighted additional costs, including millions of dollars for extra city staffing needed to oversee the new sector.
"Places aren't making money from marijuana," Kevin Sabet, author of the forthcoming book "Smoke Screen: What the Marijuana Industry Doesn't Want You to Know," told The Epoch Times. "It's a drop in the bucket compared to the overall budget."
Sabet is the president and CEO of Smart Approaches to Marijuana (SAM), a nonprofit organization dedicated to a health-first approach to marijuana policy. He also served as an advisor to three U.S. presidential administrations.
He said the perceived benefits of legalizing and selling cannabis are outweighed by the costs, which include more law enforcement to address impaired driving, specially trained police officers, and administration related to the licensing process.
"There's all these issues related to legalization. That's why the majority of cities and towns in legal states have banned marijuana altogether—just like in Orange County [had previously]. … It's not worth the hassle," Sabet said.
"Legalization advocates … just like to count the revenues. But no business person counts revenues and doesn't count costs."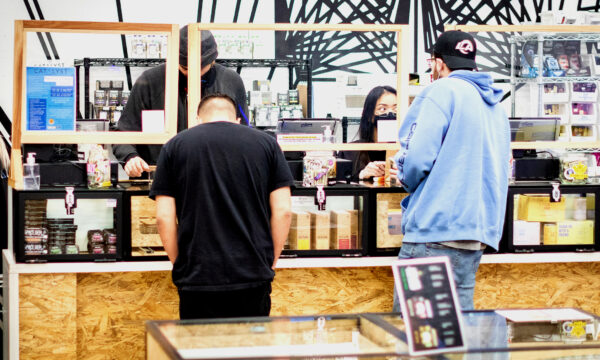 Customers shop for marijuana products at Catalyst Cannabis Dispensary in Santa Ana, Calif., on Feb. 18, 2021. (John Fredricks/The Epoch Times)
Political Risk
Attorney Larry Horwitz, founder and CEO of the Horwitz Armstrong law firm in Lake Forest, told The Epoch Times that tax revenue is generally the only incentive cities have for permitting retail cannabis.
"The city of Santa Ana is certainly collecting hundreds of thousands—if not millions—of dollars in revenues from all these different retail establishments," Horwitz said.
"Otherwise, it just doesn't make a lot of political sense. Without the tax revenue, there's no reason to take what they view as a political risk. And the political risk is always multiplied several times over when you have public-facing operations like retail."
For the current fiscal year 2020–2021, Santa Ana expects to bring in $10.7 million in revenue generated by combined cannabis industry taxes, while spending $6.8 million on youth programs and enforcement services, according to the city's budget.
The combined cannabis industry also generated nearly $8.4 million in tax revenue for the 2018–2019 fiscal year, and had been expected to jump to over $10.8 million for 2019–2020, according to the Santa Ana budget. It did reach that goal and then some, with $10.9 million brought in from retail cannabis alone (the other cannabis industries in Santa Ana, such as manufacturing, brought in about $1.5 million combined).
However, according to the city of Santa Ana, actual costs associated with the cannabis public fund for 2019–2020 were $8.8 million, well over the $6.2 million in the annual budget.
For the current fiscal year, the city reports $4 million has been spent to date.
Horwitz, who is also a board member on the Orange County Cannabis Chamber of Commerce, said Santa Ana is unique, because it has all five "verticals" of the cannabis supply chain in the city: cultivation, manufacturing, distribution, testing, and retail.
He noted the other verticals are "kind of under the radar." Other cities, like Irvine, only allow testing laboratories.
"It's not just about retail," Horwitz said. "Retail may or may not be the biggest tax supplier, but it is definitely viewed by the politicians as the biggest political risk."
Horwitz said he has spoken with many different city councils, planning commissions, and city attorneys. It's his belief that certain cities—like Newport Beach, Laguna Beach, Irvine, Mission Viejo, and Lake Forest—will likely never branch off into the cannabis retail business.
"They don't need the taxes," he said. "Those are all well-financed cities."
'A Bare-Knuckle Fistfight'
Elliot Lewis, founder and CEO of Catalyst Cannabis Company in Santa Ana, indicated that might not necessarily be the case.
Lewis currently has five retail stores in Southern California. By the end of the year, he's hoping to expand to 13 stores; by 2022, he's eyeing as many as 18.
"I do think there'll be a big wave here in Southern California over the next two years," he told The Epoch Times. "I think the attitudes are changing, even here in Orange County. This game's early—second or third inning. There's 34 cities in Orange County; only one of them has been turned on."
According to Lewis, 92 percent of the customers at his Santa Ana location aren't residents of the city. Many surrounding cities that don't allow retail have their citizens shopping for cannabis in Santa Ana.
Lewis's Santa Ana store isn't his company's only location in the county—it's just the only one open for business. He has already applied for a license in Stanton, and will probably apply in Costa Mesa. And even though Fullerton recently repealed its cannabis ordinance, he remains hopeful.
"Nothing is totally dead yet. That ordinance is dead, but [the issue is] still being actively pushed around a little bit. We'll see what happens," he said, adding that the possibility of cannabis retail in Anaheim is also worth watching.
"We've had different conversations in some cities. Maybe the votes aren't there yet, but councils are changing; people are getting more open to it," he said. "There's another few cities that are on the radar that there's been some early discussions with, [but I] don't want to say too much about those until they get further along."
Lewis acknowledged the challenges that come along with opening stores in California, which allows individual cities to ban the sale of cannabis, unlike some other states.
"It's a block-by-block, street-by-street, bare-knuckle fistfight. We give a lot to the community, but we're … gritty," he said. "And when we come to try to win a license, it's very competitive, and we do everything above board."
James Shih, founder & CEO of My Green Network, is in the process of opening the first "cannabis shared space" in Santa Ana, which basically streamlines the process of breaking into the cannabis business.
He said the usual process of setting up a cannabis business involves a conditional use permit (CUP), which entails advocating in front of the public at city council meetings to convince people to let them operate in their city. But according to Shih, Santa Ana has a regulatory safety permit model (SPM), which is a different approach.
"It's the same thing as if you were to go pull a permit for fire safety, essentially. If you apply, if you are qualified, and you do everything properly, you will get your license at the end of the day," Shih told The Epoch Times.
"Orange County is what we consider to be a humongous up-and-coming cannabis market. The purchasing power in Orange County and the potential for expansion is humongous."
Jack Bradley of The Epoch Times contributed to this report.