Over 1 million mail-in ballots have been requested for the upcoming U.S. Senate runoff elections in Georgia, officials said Monday.
Approximately 1,037,172 absentee ballot applications have been entered into the voter registration systems, Gabriel Sterling, the state's voting system implementation manager, told reporters at a press conference.
Another 39,259 are pending.
So far, some 43,000 voters have already returned their ballots and had them accepted on the county level.
Monday is the last day voters can register to vote in the runoff elections. People were told they can apply at registrars' offices until they close or online if they have a driver's license attached to their voter registration, until 11:59 p.m.
Early voting has already opened for the races.
Sens. Kelly Loeffler (R-Ga.) and David Perdue (R-Ga.) are vying with pastor Raphael Warnock and filmmaker Jon Ossoff to keep their seats.
The runoff elections could determine which party controls the Senate.
If Democratic presidential nominee Joe Biden wins the presidential election, Democrats could flip the Senate by winning both runoffs. If President Donald Trump retains office, Republicans will automatically keep control of the upper congressional chamber. Vice presidents serve as presidents of the Senate and thus can cast tiebreaking votes.
Republicans already have 50 Senate seats in the next Congress.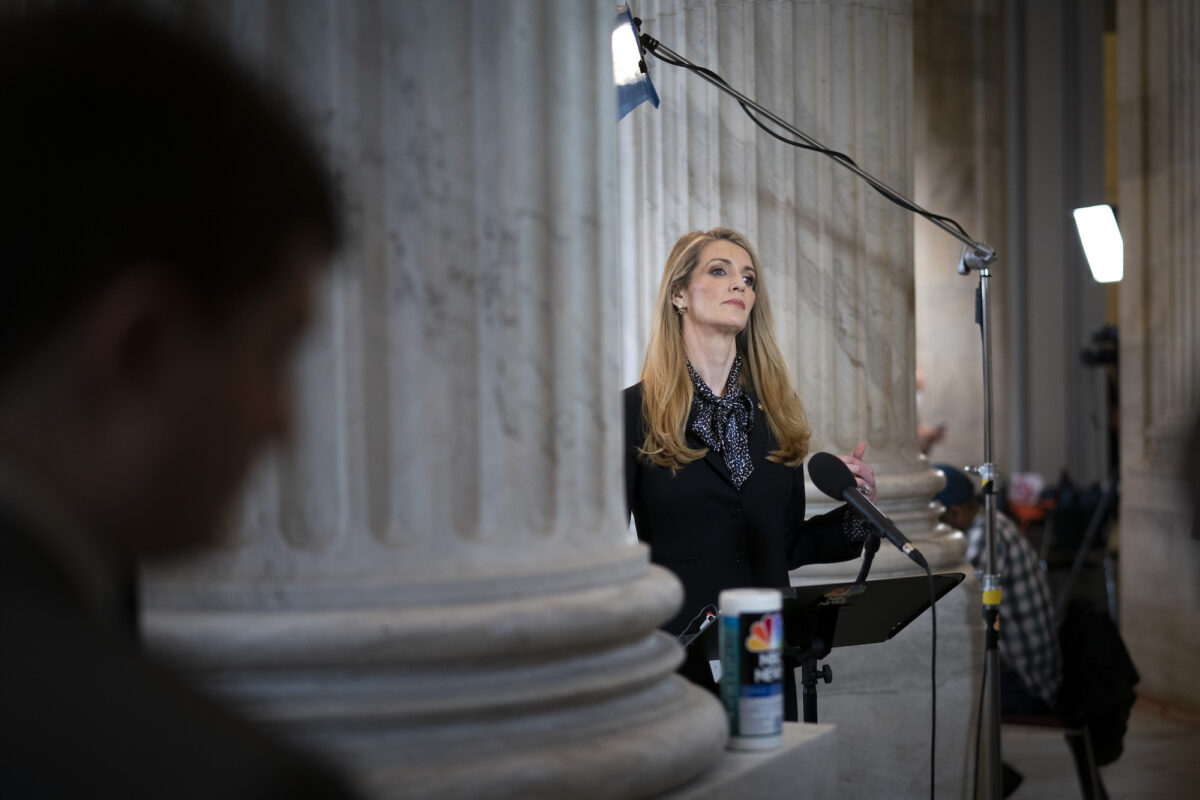 Sen. Kelly Loeffler (R-Ga.) does a television interview on Capitol Hill in Washington on March 20, 2020. (Drew Angerer/Getty Images)
During a debate on Sunday in Atlanta, Loeffler called on people to vote, warning that Democrats would raise taxes, slash funding for law enforcement, and ease border restrictions if they gain control of the Senate.
"I'm fighting for every single Georgian to live the American dream that I was blessed to live," she said.
Warnock said that if elected he would "work on the issues [he's] been working on for years."
"I've been fighting for access to affordable healthcare, I've been fighting for voting rights, I've been fighting for is essential workers, ordinary people, because I know what it's like to be an ordinary person. I grew up in public housing, the first college graduate in my family of 12. I'm number 11. And if it were not for Pell Grants, low-interest student loans, I wouldn't be here. I know the importance of good federal policy," he said.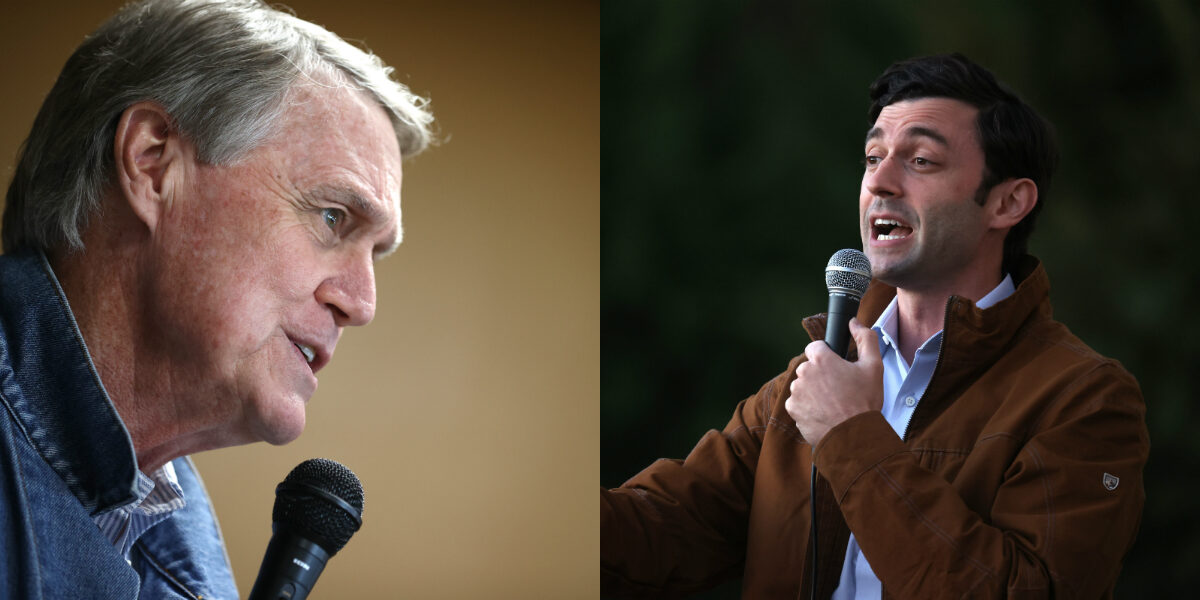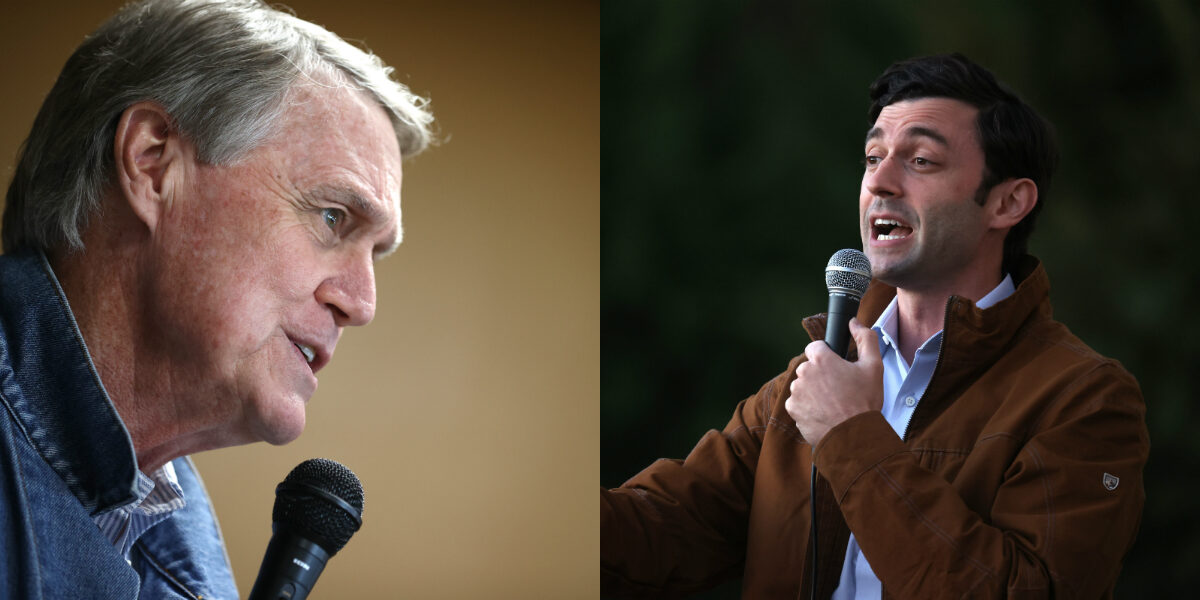 Sen. David Perdue (R-Ga.) and Democratic U.S. Senate nominee Jon Ossoff in file photographs. (Getty Images)
Perdue declined to face Ossoff in a debate, leaving the Democrat alone on the stage. Ossoff accused Perdue of arrogance.
"It shows an astonishing arrogance and sense of entitlement for Georgia's senior U.S. senator to believe he shouldn't have to debate at a moment like this in our history," he said.
Perdue said last month that he wouldn't debate Ossoff because they already debated twice.
"In each, Ossoff lied repeatedly, and of course the media failed to hold him accountable. He refused to talk about the issues and could not defend his radical socialist agenda. If Ossoff wants to keep lying to Georgians on TV, he will have to use his out-of-state money to pay for it," his campaign said in a statement.
Secretary of State Brad Raffensperger, Sterling's boss, said at the press conference Monday that his office is working with counties to ensure a safe and secure election for the runoffs.
"We will continue to take steps to assure that only legally registered Georgians will be casting ballots," he said.
Raffensperger and Sterling both continued downplaying allegations of fraud and irregularities, which they say didn't affect the outcome of the election. Georgia officials planned to complete the second vote recount later Monday and declare Biden the winner by about 12,300 votes.
"I am looking forward to a great Christmas time, and then a good legislative session," Raffensperger said.
"We will have our elections bill brought forward. It'll be a major reform of our election processes."