The Senate's top Democrat on Sunday said he is attempting to secure enough votes to approve a controversial President Joe Biden nominee.
Biden picked Neera Tanden to head the White House Office of Management and Budget, but Republicans oppose the nomination. They were joined recently by Sen. Joe Manchin (D-W.Va.), putting the nomination in peril.
"I have carefully reviewed Neera Tanden's public statements and tweets that were personally directed toward my colleagues on both sides of the aisle," Manchin said Friday, adding: "I believe her overtly partisan statements will have a toxic and detrimental impact on the important working relationship between members of Congress and the next director of the Office of Management and Budget."
The Senate is currently divided in half, with 50 Republicans and 50 Democrats or nominal independents who caucus with the left.
Nominations require a simple majority. Vice President Kamala Harris can break ties in her role as president of the Senate.
If Manchin is voting no, then Democrats must find at least one Republican to vote yes.
Senate Majority Leader Charles Schumer (D-N.Y.) told reporters in New York on Sunday that he and Biden haven't given up on getting Tanden's nomination approved.
"Everyone heard that one of our Democratic senators, Joe Manchin, doesn't want to vote for her," Schumer said.
"I am working with President Biden to find the extra votes so she can be passed. I think she would be a very good OMB leader," he added.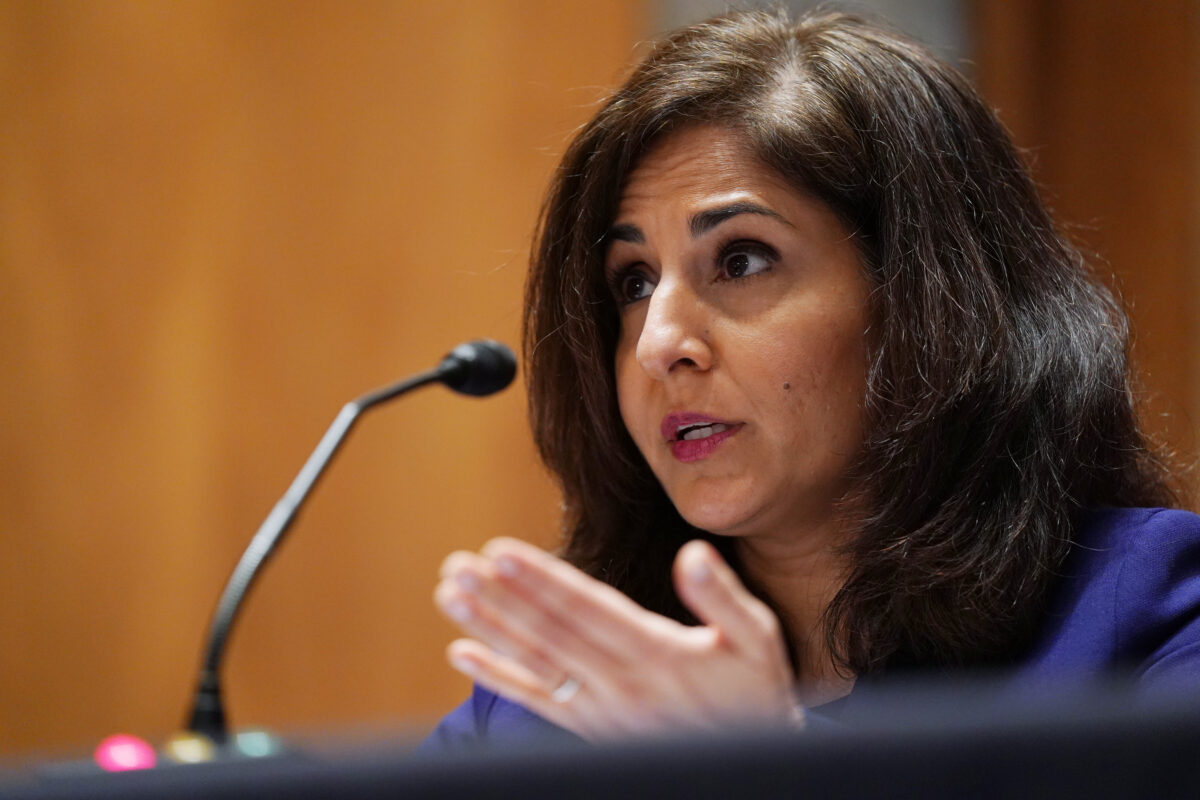 Neera Tanden, nominee for director of the Office of Management and Budget, speaks during a confirmation hearing before the Senate Homeland Security and Government Affairs Committee in Washington on Feb. 9, 2021. (Leigh Vogel/Pool/Getty Images)
Schumer didn't name any Republicans he hopes to sway.
Biden offered similar hope when speaking to reporters last week. "I think we are going to find the votes and get her confirmed," he said.
Tanden is currently the president of the Center for American Progress. A proponent of former Democratic presidential nominee Hillary Clinton, Tanden became infamous in political circles for attacking lawmakers on both sides of the aisle on Twitter, including Sen. Bernie Sanders (I-Vt.), who ran for the Democratic nomination in both 2016 and 2020.
Tanden apologized during a confirmation hearing earlier this month.
"I appreciate people's concerns about my tweets and I've regretted them. And I deleted tweets because I've regretted my tone and I've deleted tweets over many months," she said, regarding the more than 1,000 Twitter posts she'd removed from her page.
"But for those concerned about my rhetoric and my language, you know, I'm sorry. And I'm sorry for any hurt that they've caused," she added.