President Donald Trump's campaign will file a lawsuit in Georgia as soon as Friday, according to Trump's lawyer Rudy Giuliani.
"We're about to file a major lawsuit in Georgia," Giuliani, the former New York City mayor, told reporters at a Nov. 19 press conference.
The lawsuit will include voter fraud allegations, among other charges.
"In the city of Atlanta, Republicans were not allowed to watch the absentee mail-in ballot process. Inspections completely cast aside. And we have numerous double voters, we have numerous out-of-state voters, and we have specific evidence of intimidation and changes of vote. That will all be in the lawsuit that comes out tomorrow."
Giuliani pointed to affidavits filed as part of lawsuits in other battleground states to allege what he described as a centrally-run voter fraud conspiracy that stole key states from Trump.
The campaign is considering filing a suit in Arizona and is also looking at Virginia and New Mexico, according to the lawyer.
Georgia election workers have spent days doing a recount on the order of Secretary of State Brad Raffensperger, a Republican. Four counties have reported previously uncounted ballots, which in total cut Democratic presidential nominee Joe Biden's lead over Trump by around 1,400.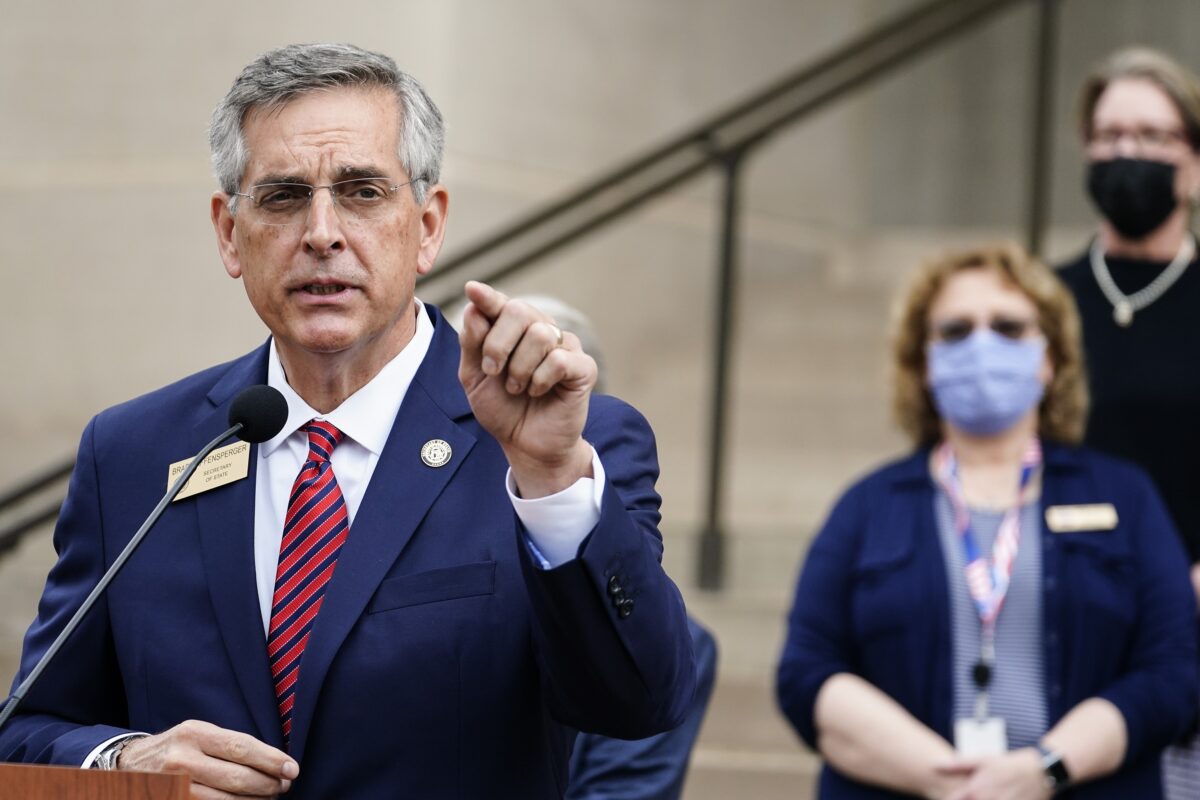 Georgia Secretary of State Brad Raffensperger speaks during a news conference in Atlanta, Ga., on Nov. 11, 2020. (Brynn Anderson/AP Photo)
Raffensperger has not bowed to calls to step down and he and officials from his office have pushed back on allegations of widespread fraud.
Giuliani said the recount didn't mean much because workers weren't analyzing the ballots the right way.
"Whatever the count in Georgia today is, is totally ridiculous. They're counting the same fraudulent ballots one more time," he said.
Trump had directed people to watch the press conference, tweeting that there's "an open and shut case of voter fraud."
Sidney Powell, a lawyer working for Trump's campaign, told reporters that the lawsuit filed in Georgia by attorney Lin Wood includes a "stunning, detailed affidavit" from an alleged whistleblower who said he witnessed Venezuelan officials work with election software company Smartmatic to rig elections in that country. He said Dominion Voting Systems uses software that incorporated much of the Smartmatic system.
Dominion has denied wrongdoing.
Wood is attempting to delay the certification of election results in Georgia.
A hearing on that lawsuit was scheduled for later Thursday.