A Republican senator, who is stymying efforts to hold election officials in Arizona's largest county in contempt for refusing to fully comply with subpoenas deemed lawful by a court, was dubbed a fake Republican by former President Donald Trump.
State Sen. Paul Boyer "is doing everything in his power to hold up" the forensic audit of Maricopa County, Trump said in a statement Thursday.
Trump derided Boyer as a "RINO," or "Republican in name only."
"Boyer has been nothing but trouble, and nobody knows why," Trump continued. "All we demand is Voter Integrity!"
The former president noted that Boyer is facing a primary challenge by former Arizona Rep. Anthony Kern, who he described as "strong and highly respected."
Arizona's Senate late last year ordered an audit of Maricopa County to try to address concerns about possible voter and election fraud. The county battled against the subpoenas for months before finally agreeing to give over materials when a judge ruled them lawful.
But the county continues refusing to provide some of the demanded materials, including routers or router images, and is daring Arizona senators to issue fresh subpoenas.
Boyer blocked a February vote to hold the county's Board of Supervisors by siding with Democrats, deadlocking the count at 15-15. He continues to oppose holding the county in contempt over defying the subpoenas, Arizona Senate President Karen Fann, a Republican, said this week.
Boyer has not responded to requests for comment about why he opposes holding the county in contempt.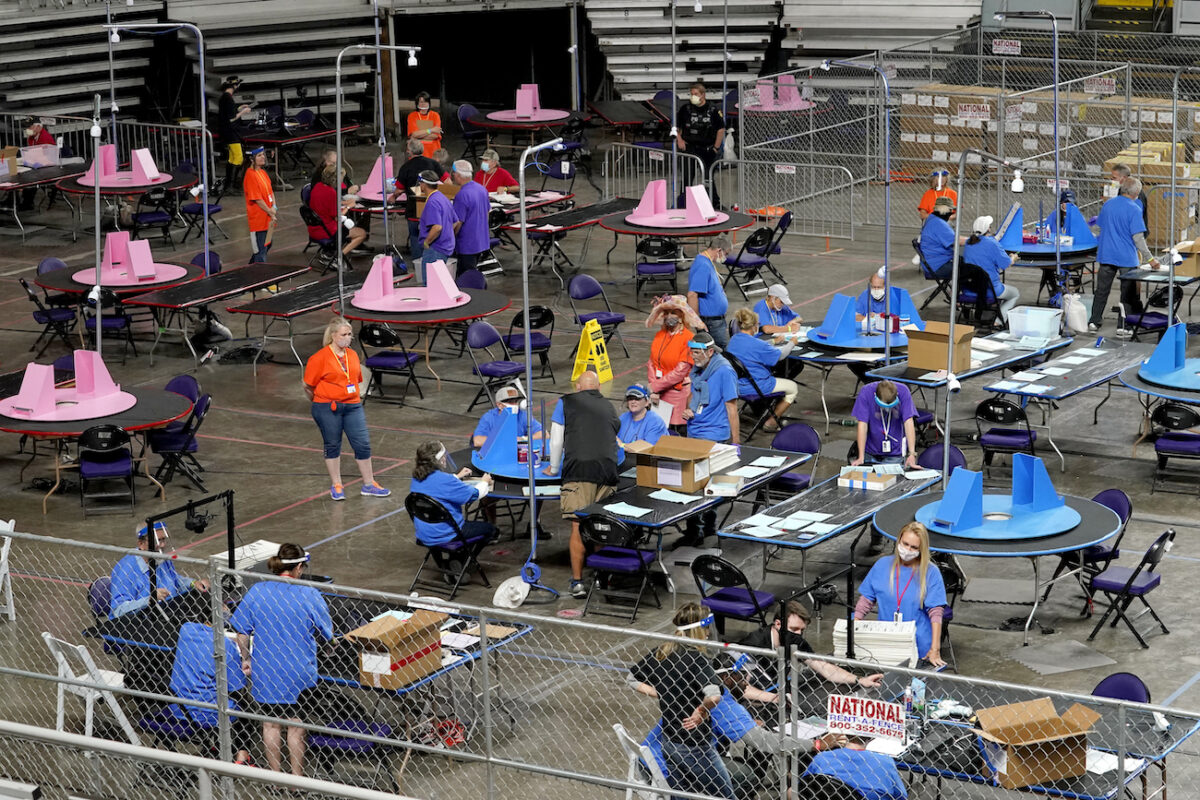 He told Fann on Twitter that he would have opposed the audit if he knew the Senate was hiring "an inexperienced, partisan firm" to conduct the review.
Fann tapped Florida-based Cyber Ninjas to lead the audit, along with subcontractors Wake Technology Services, CyFIR, and Digital Discovery. Cyber Ninjas CEO Doug Logan said last year he thought fraud occurred in the election and expressed support for Trump, facts critics repeatedly turn to when expressing disapproval of the audit.
Boyer also took to Twitter to respond to Trump.
"Had Trump built the wall like he promised, perhaps he could've prevented the 40k #BambooBallots from being imported into Arizona Smiling face with open mouth and tightly-closed eyes," he wrote. "And if he hadn't started an insurrection in D.C. and gotten kicked off here, I could've responded directly to him. So there's that."
Under Trump, nearly 500 miles of border wall was built. Most of that was replacement for fencing that was already in place.
The line about bamboo ballots refers to auditors checking the stock of some of the ballots to address one theory, that ballots were imported from other countries.
And Boyer used a largely-Democrat talking point in blaming Trump for causing the Jan. 6 breach of the U.S. Capitol. Trump and many supporters deny the president played a role. Trump told a crowd at The Ellipse that day that when they went to the Capitol, they should remain peaceful.
Twitter booted Trump off its platform shortly after and has banned him permanently.