President Donald Trump on Saturday suggested former Rep. Doug Collins (R-Ga.) primary Georgia Gov. Brian Kemp in the next gubernatorial election.
Collins, who ended up third in a free-for-all race to fill the Senate seat left vacant by the retirement of Sen. Johnny Isakson, joined Trump on stage during a rally in Valdosta on Saturday night.
After calling Collins "one the greatest advocates I've ever met in Washington," the president added, "Doug, you want to run for governor in two years?"
The crowd cheered and applauded as Trump said Collins would "be a good-looking governor."
To become governor in Georgia, Collins would likely need to beat Kemp in a primary in 2022 before facing the Democratic nominee.
Collins tried to win a Senate seat but ended up about 300,000 votes behind Sen. Kelly Loeffler (R-Ga.), who is now facing pastor Raphael Warnock in a runoff election. He has since become the Trump campaign's recount leader in Georgia.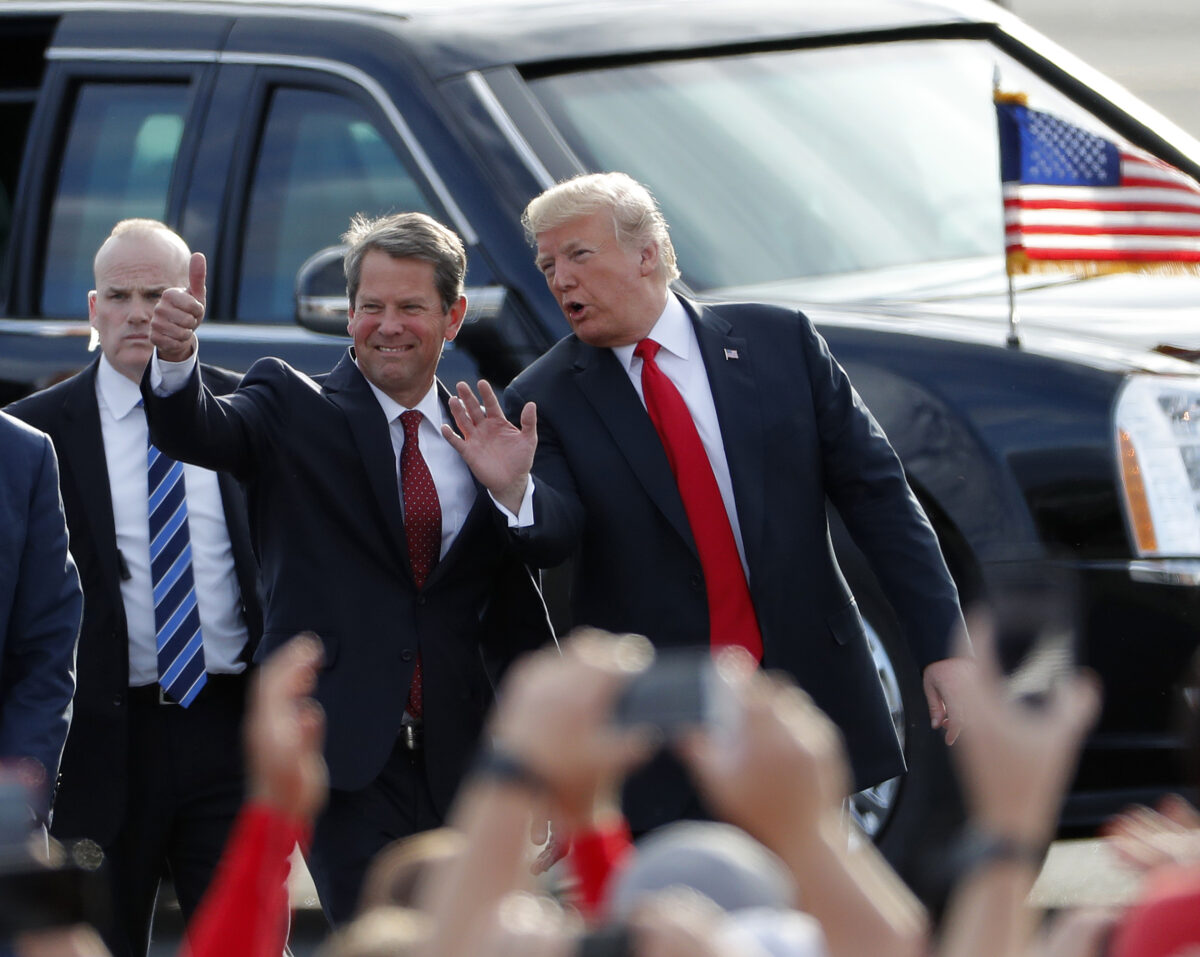 Then-Georgia Republican gubernatorial candidate Brian Kemp, left, walks with President Donald Trump as Trump arrives for a rally in Macon, Ga., on Nov. 4, 2018. (John Bazemore/AP Photo)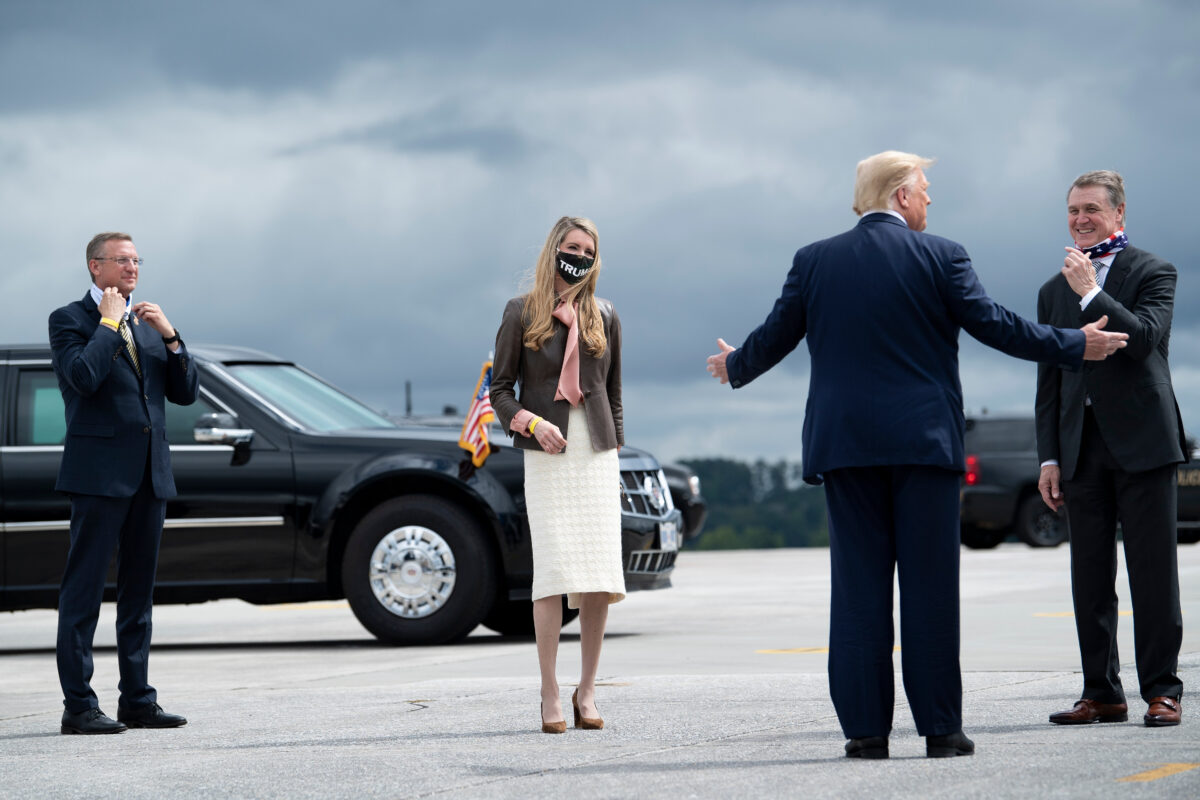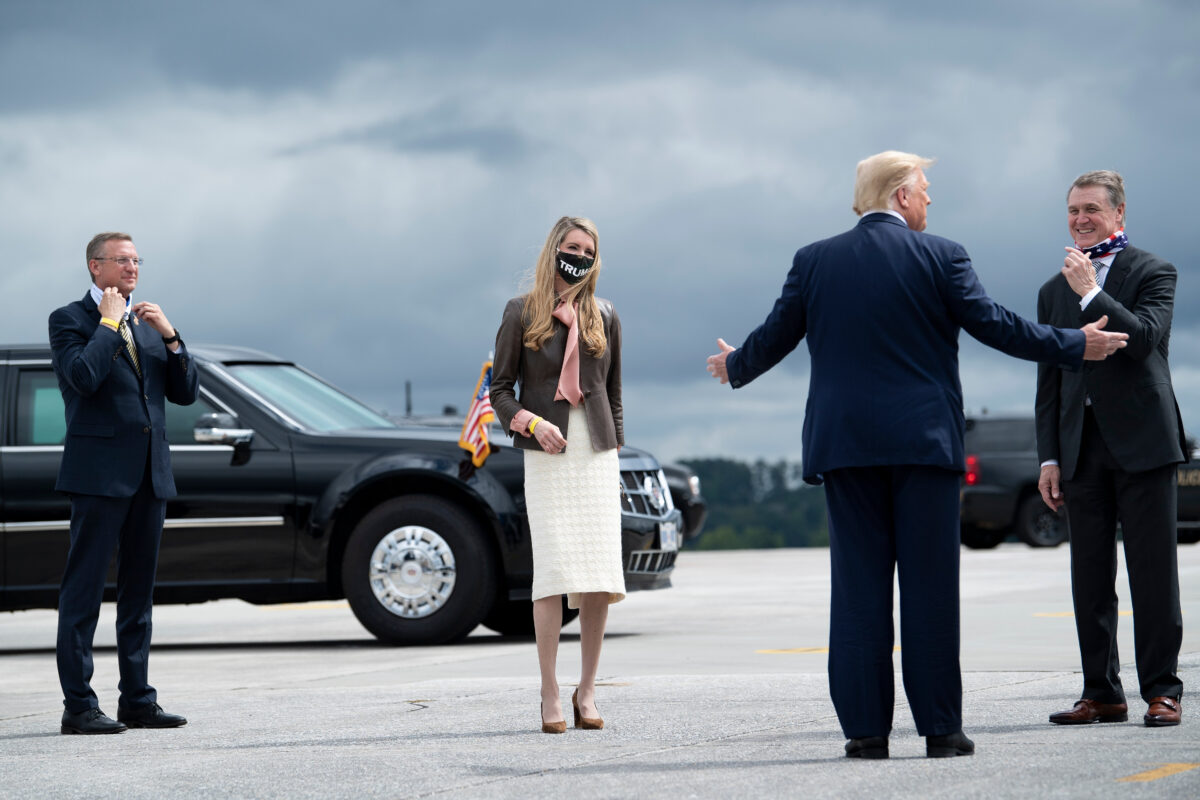 Then-Rep. Doug Collins (R-Ga.), left, greets President Donald Trump with Sens. Kelly Loeffler (R-Ga.) and David Perdue (R-Ga.) at Dobbins Air Reserve Base in Marietta, Ga., on Sept. 25, 2020. (Brendan Smialowski/AFP via Getty Images)
Trump, who has increasingly shown frustration with Kemp, last month said he regretted endorsing the governor, saying Kemp, in his first term, has "done absolutely nothing" to help his efforts to challenge election results.
Trump alleged earlier Saturday on Twitter that he would quickly be declared the winner of Georgia if Kemp or Secretary of State Brad Raffensperger, also a Republican, permitted signature verification of ballots.
"Has not been done and will show large scale discrepancies. Why are these two 'Republicans' saying no? If we win Georgia, everything else falls in place!" Trump wrote.
Kemp shot back that he has pushed for the verification.
"As I told the President this morning, I've publicly called for a signature audit three times (11/20, 11/24, 12/3) to restore confidence in our election process and to ensure that only legal votes are counted in Georgia," he said.
Trump said that wasn't enough.
"But you never got the signature verification! Your people are refusing to do what you ask. What are they hiding? At least immediately ask for a Special Session of the Legislature. That you can easily, and immediately, do," he wrote.
Kemp didn't answer.
A Kemp spokesman didn't immediately respond to a request for comment.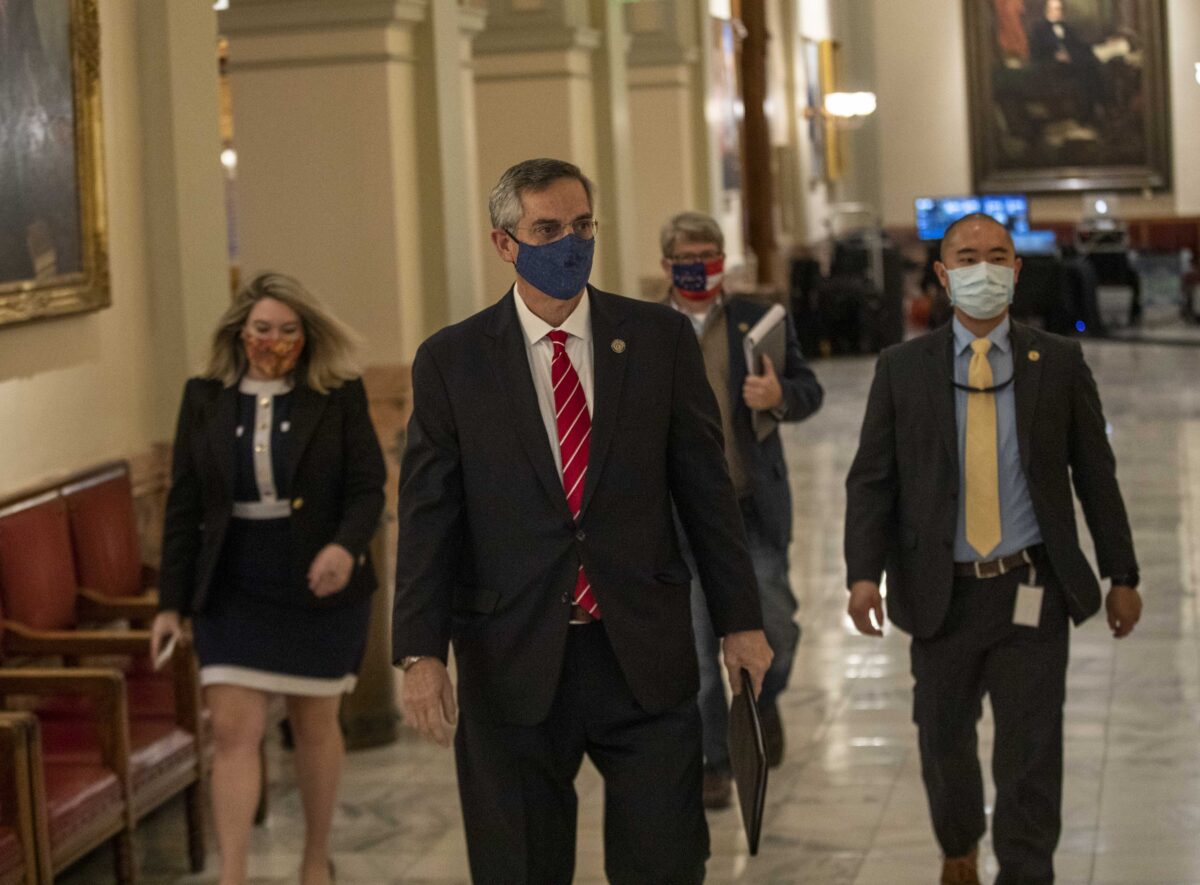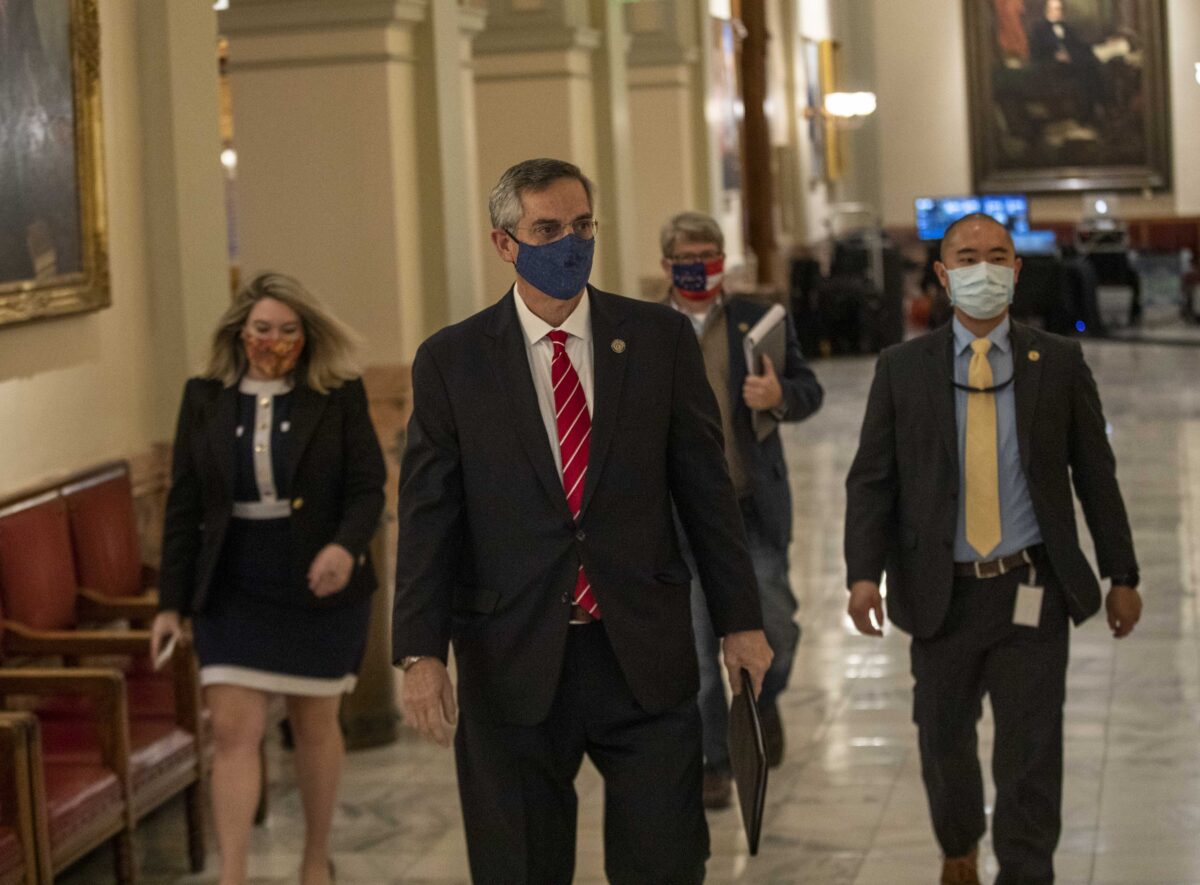 Georgia Secretary of State Brad Raffensperger, center, walks with members of his staff as they make their way to a press conference at the Georgia State Capitol building in Atlanta, Ga., on Dec. 2, 2020. (Alyssa Pointer/Atlanta Journal-Constitution via AP)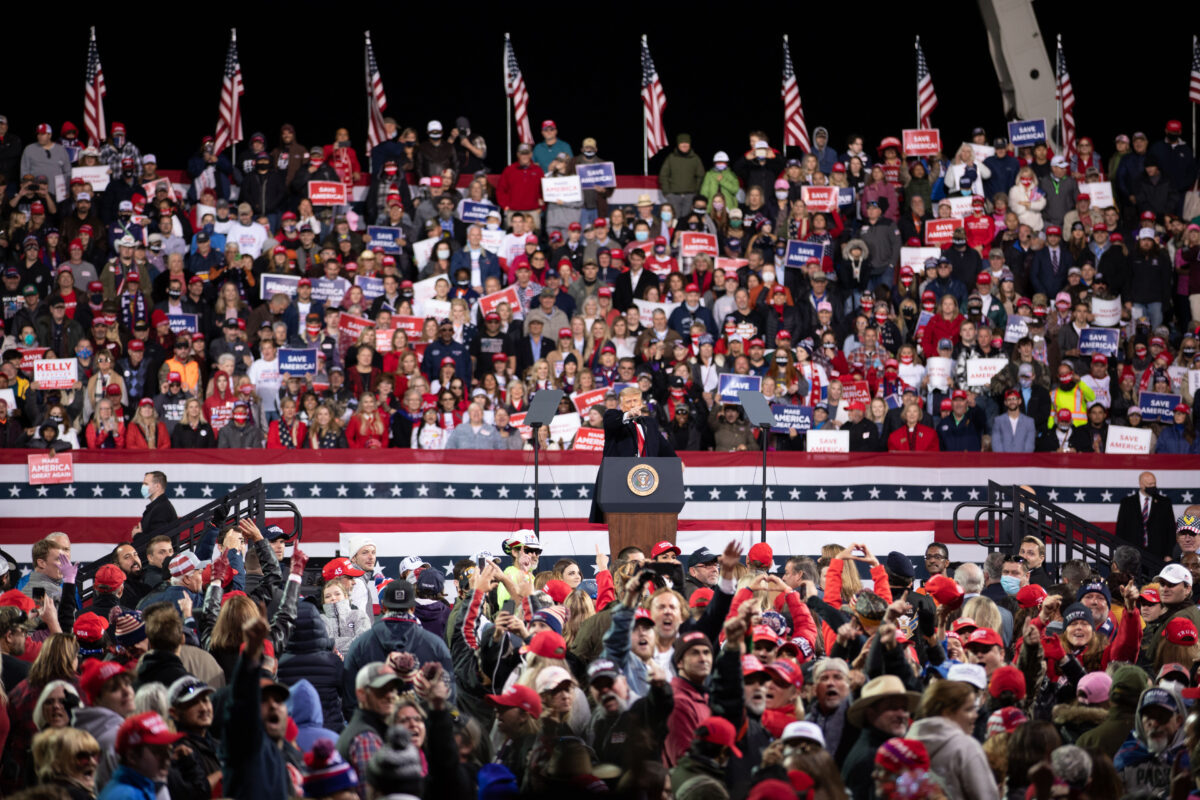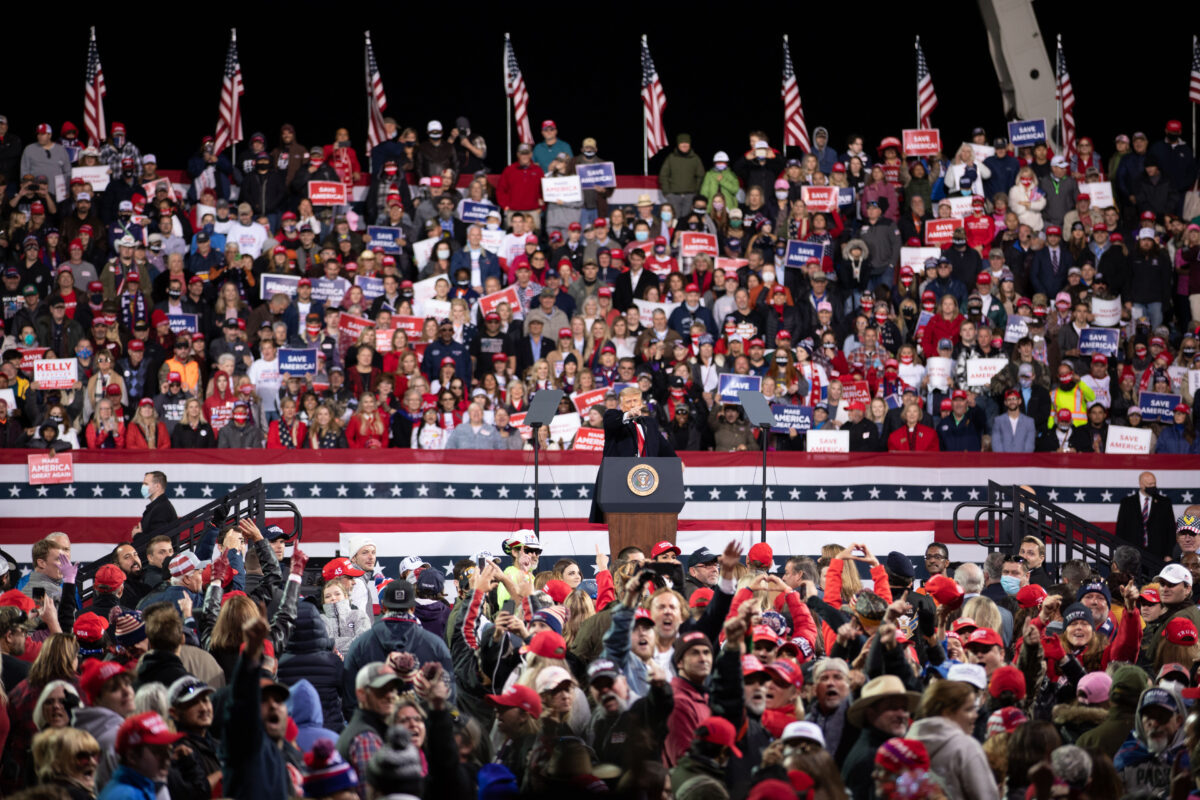 President Donald Trump points during a rally in Valdosta, Ga., on Dec. 5, 2020. (Lynn Lin/Epoch Times)
Cody Hall, the spokesman, told news outlets that Trump spoke with Kemp on Saturday over the phone to express sympathy over the death of Harrison Deal, a member of Loeffler's campaign. The governor had referred to Deal in a statement as "the Kemp son and brother we never had."
It wasn't clear whether Trump and the governor spoke about election-related matters.
Democratic presidential nominee Joe Biden was ahead in the Georgia vote count after a hand audit. A recount is underway, based on a request by Trump, but Raffensperger has said he doesn't expect the results to change.
Trump later wrote that between Kemp and Republican Arizona Gov. Doug Ducey, "the Democrat Party could not be happier."
"They fight harder against us than do the Radical Left Dems. If they were with us, we would have already won both Arizona and Georgia," he wrote.
"We received more LEGAL votes by far. All I can do is run, campaign, and be a good (great!) President – it is 100% up to the states to manage the election. Republicans will NEVER forget this."