The two Republicans who voted against certifying election results in Michigan on Tuesday night before reversing themselves were threatened and harassed before changing their votes, President Donald Trump said on Nov. 18.
"At first they voted against because there were far more VOTES than PEOPLE (Sad!)," Trump wrote on Twitter.
"Then they were threatened, screamed at, and viciously harassed, and were FORCED to change their vote, but then REFUSED, as American patriots, to sign the documents. 71 [percent] MESS. Don't Harass!"
Trump had weighed in on the situation in Wayne County just after the initial vote, calling the two GOP canvassers courageous.
"Wow! Michigan just refused to certify the election results! Having courage is a beautiful thing. The USA stands proud!" he added.
Wayne County Board of Canvassers Chairwoman Monica Palmer and member William Hartmann voted against certifying the results, citing concern about incomplete information in the county's poll books.
Democrats Jonathan Kinloch and Allen Wilson voted for certification, resulting in a 2–2 deadlock.
That's when members of the public began berating Palmer and Hartmann for the vote.
"I just want to let you know that the Trump stink, that the stain of racism, that you, William Hartmann and Monica Palmer, have just covered yourself in is going to follow you throughout history. your grandchildren are going to think of you like Bull Conner or George Wallace," said Ned Staebler, a vice president at Wayne State University who accused them of being "ordered to do it."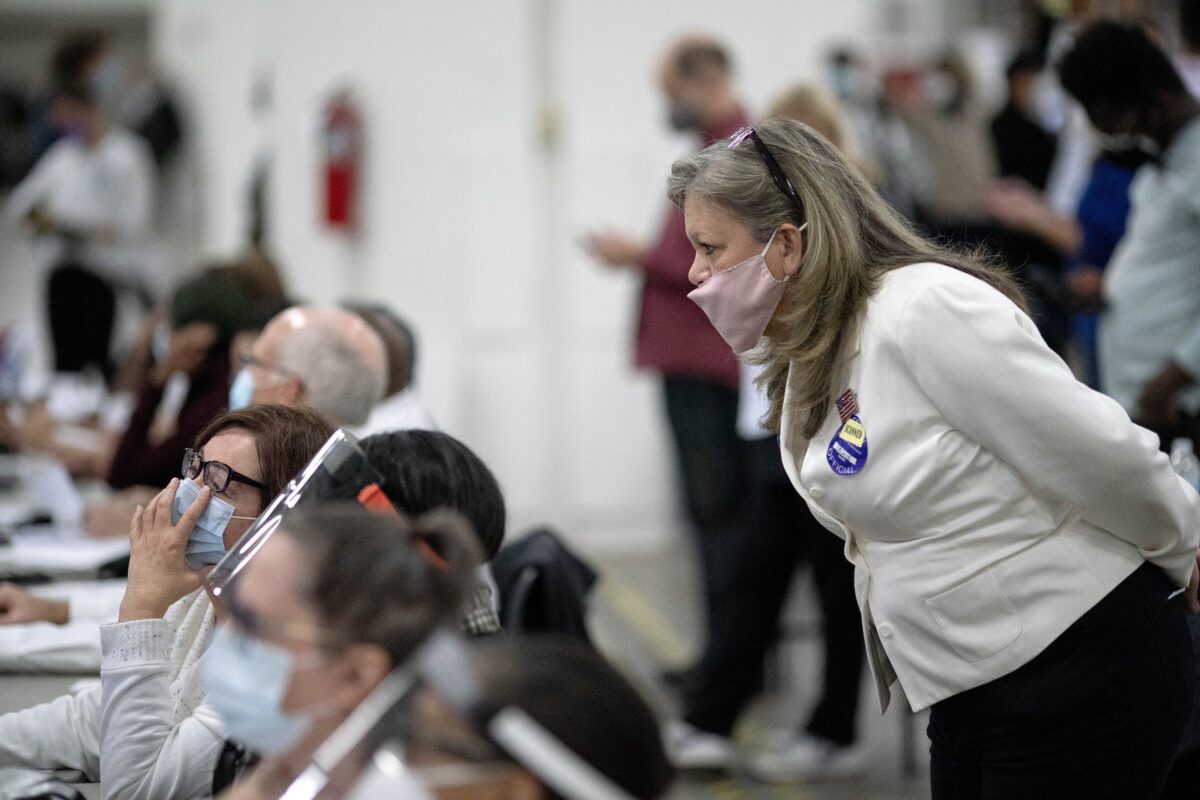 A Republican election challenger at right watches over election inspectors as they examine a ballot as votes are counted into the early morning hours at the central counting board in Detroit, Mich., on Nov. 4, 2020. (David Goldman/AP Photo)
"When you go to meet your maker, your soul is going to be very, very warm," he added.
A number of other speakers brought up the children of the Republicans while claiming their decision was racist.
"You are standing here today telling folks that black Detroit should not have their votes counted. And know the facts: you are certainly showing that you are a racist," state Rep.-elect Abraham Aiyash, a Democrat, said.
"I hope that your name lives in infamy of being [sic] disenfranchising voters races and continuing Jim Crow laws and the attitude of Jim Crow into 2020," Rev. Wendell Anthony, a pastor and head of the Detroit branch of the National Association of the Advancement of Colored People (NAACP), added.
Trische Duckworth of the Survivors Speak organization said Palmer committed an atrocity and got mad that Palmer had left the room.
"If she did not want to take this lashing, she should have voted to certify these votes," Duckworth added.
Hartmann and Palmer reversed their votes after the public comment period, on the condition that the secretary of state's office conduct a comprehensive audit of "the unexplained precincts" in the county. The audit should be filed with state lawmakers and Gov. Gretchen Whitmer, a Democrat, the county board said.
A request for an interview with Palmer and Hartmann sent to the county clerk wasn't immediately returned.
Michigan Secretary of State Jocelyn Benson, a Democrat, called the discrepancies in Wayne County "bookkeeping errors" on Wednesday and hailed the reversal as the right thing to do.