Georgia's two U.S. senators say they support President Donald Trump's request for a recount in Georgia.
"I support President Trump's request for a recount in Georgia, one in which signatures on absentee ballot envelopes are properly matched and verified to their signature on the registration. Anything less than that will not be a full and transparent recount," Sen. David Perdue (R-Ga.) said in a social media statement on Sunday.
Sen. Kelly Loeffler (R-Ga.) said in a separate statement she fully supports Trump's request.
"We must match and verify absentee ballot signatures to their corresponding voter registration signatures, investigate all voting irregularities, and count only the votes that were legally cast," she added.
Trump's campaign on Friday requested another recount, alleging the first one lacked signature matching "and other vital safeguards."
"Without signature matching, this recount would be a sham and again allow for illegal votes to be counted," the campaign asserted.
Georgia election workers completed a hand recount on Friday, per an order from Republican Secretary of State Brad Raffensperger.
The audit uncovered four batches of uncounted ballots in four different counties. Most of the ballots were for Trump.
The audit cut Democratic presidential nominee Biden's lead in the state by about 1,400 to 12,670 votes.
Georgia Gov. Brian Kemp, a Republican, urged Raffensperger last week to conduct an audit of signatures on ballot envelopes because of concerns from the Trump campaign and others.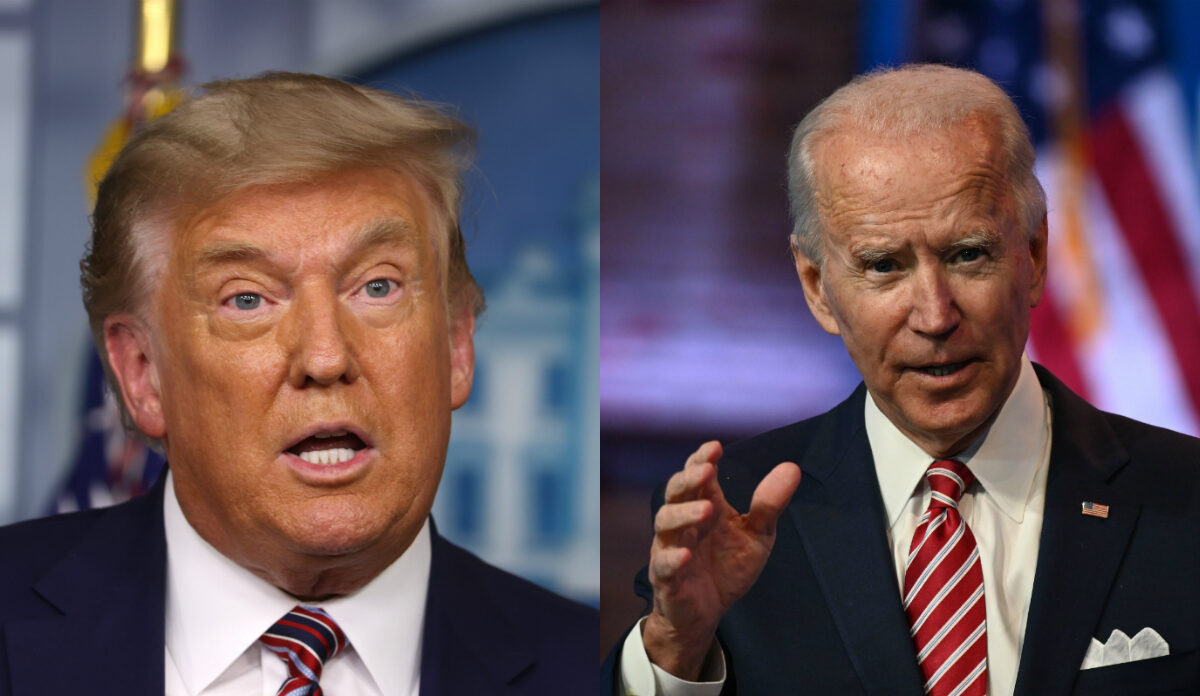 President Donald Trump, left, and Democratic presidential nominee Joe Biden in file photographs. (Getty Images)
"It's important to note that this audit only looked at ballots, not the signatures of the absentee applications or the signatures on the ballot envelopes," Kemp said. "It seems simple enough to conduct a sample audit of signatures on the absentee ballot envelopes and compare those to the signatures on applications and on file at the secretary of state's office."
Raffensperger has challenged the portrayal of signature matching, arguing that election workers are required by law to verify signatures.
Gabriel Sterling, voting systems manager for Raffensperger's office, said on CNN on Monday that he was "loath to say nothing can change" with a second recount. But, he added, "what we've seen historically in recounts, especially when you're using equipment like this, is the outcomes remain the same."
Jaclyn Rothenberg, communications director for Biden's Georgia campaign, said in a statement to news outlets over the weekend that the initial recount "reaffirmed what we already knew: Georgia voters selected Joe Biden to be their next president."
"There is no reason to believe there are widespread errors or fraud and the Trump campaign has no evidence to back up their baseless claims," she added. "With regards to signature matching, both parties were aware of the rules set forth months before the election and all signatures have already been matched. Any further recount will simply reaffirm Joe Biden's victory in Georgia a third time."